It's no secret that we love Italian food. And if you're reading this blog, you probably love it, too. In a lot of ways, the prospect of cooking a meal with all of our favorite ingredients—or being served one of those meals—is what gets us out of bed every morning.
We're almost always in the mood for a thinly cut chicken cutlet, fried until crisp, and adorned with smooth mozzarella cheese and a generous ladling of marinara sauce. We rarely turn away a casserole of baked ziti, with its varying textures of pasta and cheese—here crunchy, there pillowy. Offer us spaghetti and meatballs, manicotti, or linguine with clams, and we'll clean those plates and ask for seconds.
But when you love food as much as we do, chances are you'll contend with a craving for a medley of culturally diverse flavors. And when that happens, the best course of action is to lean into it and dream up kitchen creations that cross borders.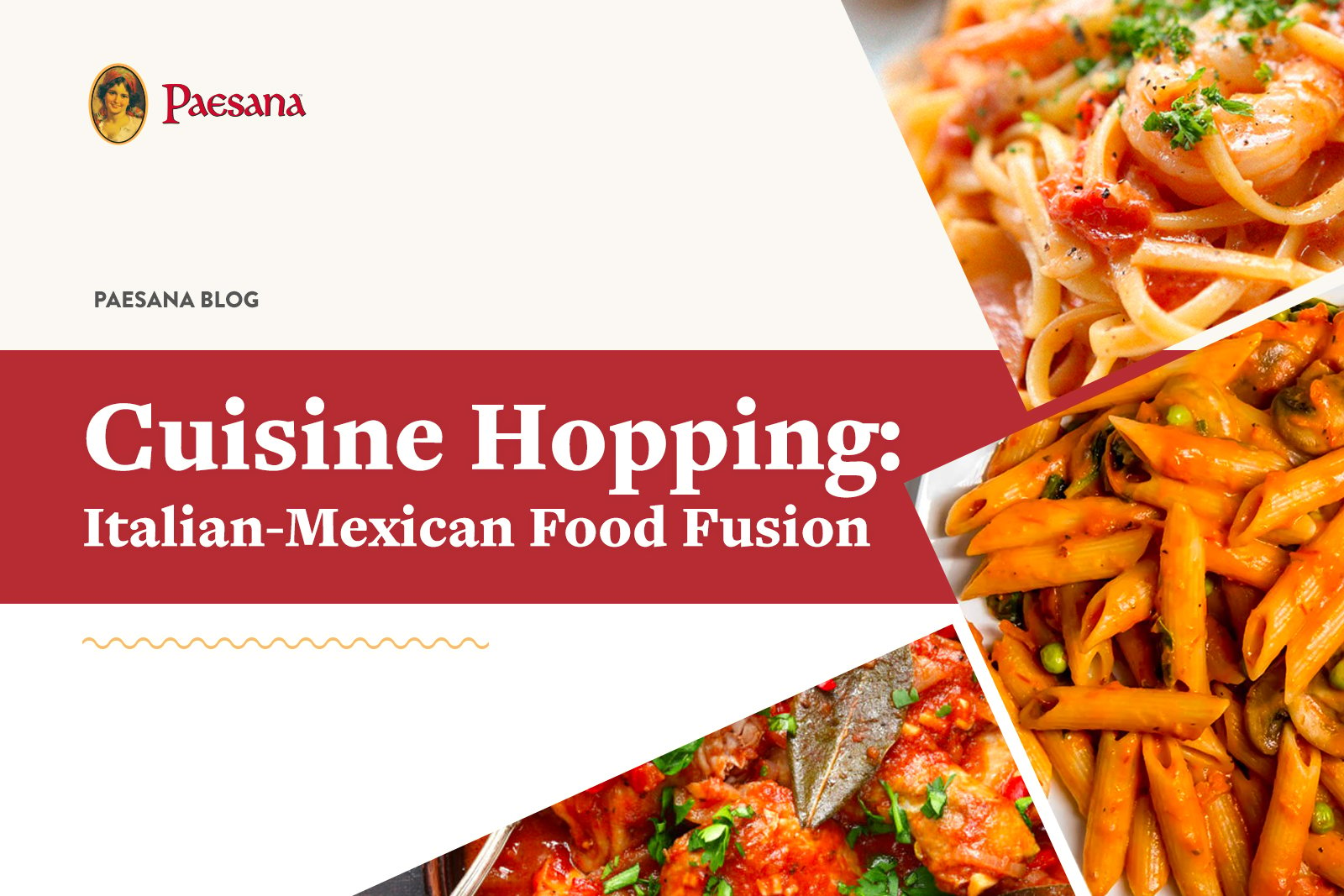 Paesana Goes Cuisine Hopping
And so begins a new series where we tell you what kinds of diverse dishes you can prepare using our most certainly Italian ingredients. First on our list is Mexican-Italian Fusion. Or, as we like to call it …
Mexitalian.
The cultural combination of Mexican and Italian cuisines makes a lot of sense. Recipes from these countries both use plenty of cheese and meat, while tomatoes arguably serve as the base for both cuisines. And what is pasta if not taco and tortilla shells cut into bite-sized pieces or stretched into long strands. OK, we know that's not entirely accurate, but it's with that spirit that we present our Mexitalian Menu of Mexican-Italian Fusion Dishes.
The following five dishes bring Italian and Mexican ingredients together in harmony—using Paesana products to amplify the quality!
Chicken Parm Tacos
Chicken parm heroes are one of the most popular Italian menu items, both the restaurant and home-cooked versions. Here, we take that time-honored tradition and replace the Italian bread with either flour or corn tortillas. Simply prepare chicken parm as you usually would, using Paesana Marinara Sauce. Warm both sides of your tortillas in a hot pan so they're pliable and cut the chicken cutlet into strips so they fit inside the tortilla. Then, build your tacos. Spoon a little sauce into the tortilla first, then lay the chicken down before adding more sauce on top. Sprinkle parmesan cheese on top and melt in your toaster oven or under your oven's broiler—but only for a short time! Add a couple of basil leaves, fold, and eat! You can also add some hot sauce to your Paesana Marinara or use Paesana Fra Diavolo sauce for an extra spicy kick.
When you love food as much as we do, chances are you'll contend with a craving for a medley of culturally diverse flavors.
Sweet & Smoky BBQ Chicken Pizza
Here, you'll need Paesana BBQ Pizza Sauce, and everything else necessary to make a pizza pie at home. Oh, you'll also need pre-cooked chicken, cut into bite-size pieces. For the smoky, slightly spicy, south-of-the-border flavor, get a 7 oz. can of chipotle peppers in adobo sauce. Combine the peppers and a jar of Paesana BBQ pizza sauce in a food processor (or blender) and blend until smooth. Ladle the sauce onto the pizza dough, dot it with pieces of chicken, and bake until the pizza dough has sufficiently browned. Add some red onions on top toward the end of cooking for a little extra crunch and flavor.
Italian Fajitas
Who doesn't love the sound and combined aromas of peppers and other ingredients sizzling together in a hot pan? Classic chicken or steak fajitas typically feature strips of onions, along with green and red peppers, and multiple condiment sides like sour cream and pico de gallo. For our Italian-style fajitas, we use hot or sweet Italian sausage, along with the requisite onions, but also Paesana mushrooms and fire-roasted peppers. Brought together in a screaming hot skillet, the ingredients dance and crackle over the flames before being placed in a pillowy soft flour tortilla. Feel free to serve sour cream and pico de gallo on the side, or create a spicy dip of our own using Paesana's Fra Diavolo sauce.
Mexican Lasagna
Bubbling with scorched cheese and sweet and zesty tomato sauce, lasagna is the ultimate Italian comfort food. And while traditional lasagna is a sacred dish, it too can be made using Mexican-style ingredients. You still need lasagna noodles and ricotta cheese, but instead of traditional tomato sauce, you'll use salsa (or you can use Paesana Fra Diavolo sauce, just add some diced red peppers and jalapenos to it). Also, swap out mozzarella cheese in favor of a shredded blend of Mexican cheese. For this lasagna, you'll cook ground beef in taco seasoning. And when it's time to build the lasagna, spoon a layer of your salsa over the bottom of your casserole and cover with a layer of lasagna noodles. Then, the next layer is a combination of ricotta, sour cream, and egg, then cheese and ground beef on top of that. This one is a little complicated, so check out this great recipe we found here!
Chicken Marsala Burrito
After eating chicken marsala pizza at a local pizzeria recently, we asked ourselves, "has anyone thought to combine the elements of chicken marsala with the burrito before?" That got our wheels really turning and we decided to give it a try. Well, we are happy to report that chicken marsala definitely works in burrito form! For this, follow our recipe for chicken marsala using Paesana Marsala Gourmet Cooking Sauce. Then, when the chicken's ready and waiting in the skillet, lay a large flour tortilla down on your cutting board (heat the tortilla in a pan first to make it warm and pliable). First, lay down a layer of cooked white rice. This will help give your burrito body and prevent it from falling apart. Next comes the cheese layer. Use shredded mozzarella or pepper jack cheese if you want a little peppery spice. Then, slice the marsala chicken into bite-size pieces before ladling it on top of the cheese. On top of the chicken, spoon more of the mushroom and sauce before rolling it up into a burrito. Check out this helpful video on how to successfully (and correctly roll a burrito!).