There are times when it's just impossible to gather with family and friends at your favorite Italian restaurant—no matter how much you want to sit around a big table, with professional chefs creating culinary masterpieces for you to enjoy.
But don't fret! The sheer nature of Italian-American food is that of ingenuity and improvisation, graciously allowing you to invent delicious dishes using what's available to you. Large pots of comforting sauce and roasting pans of succulent meats are flavored with simple ingredients like fresh herbs, salt and pepper, aromatic vegetables, and maybe even a splash of wine.
The greatest chefs in the history of Italian-American cuisine are all descended from homecooks whose kitchens and pantries were in the Italian countryside and whose recipes were full of guesstimates and eyeball measurements, along with pinches of this and that along the way. This is what makes Italian food universally comforting and enduring. More than that, it's what graces the cuisine with undertones of familial love.
In the spirit of staying home and cooking for loved ones, let's take a look at some family-favorite meals and how you can add to the love with Paesana's array of pasta and cooking sauces.
Traditional Lasagna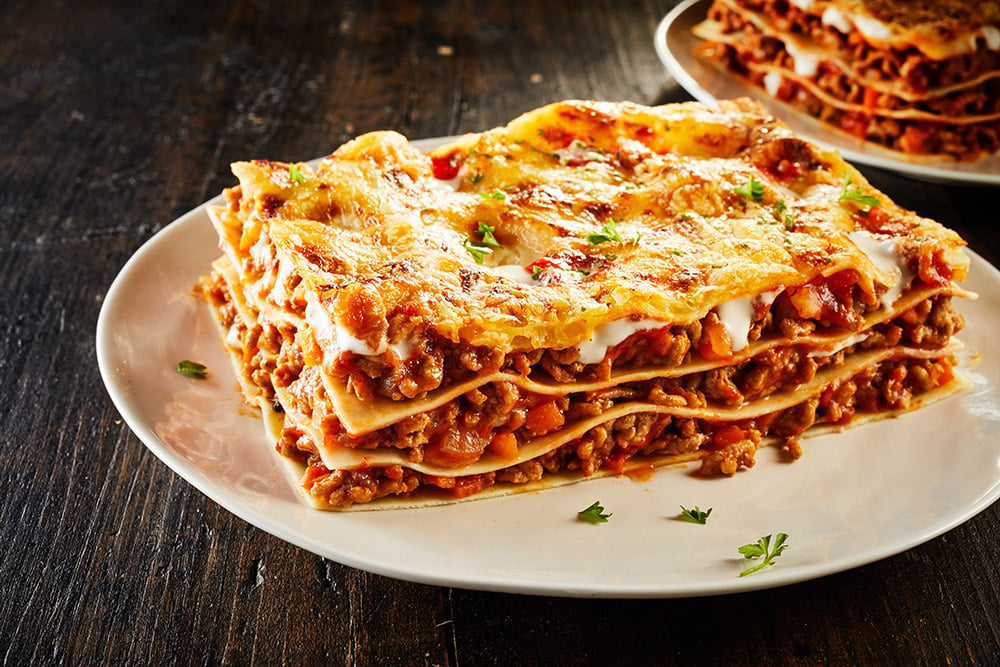 Rich and filling, homemade lasagna is the go-to meal for a lot of family holidays. From Christmas to Easter to—well, really any large gathering—lasagna fills the belly and warms the heart with traditional ingredients that meld together in a complex bite of flavors and textures.
Your lasagna could be vegetarian, simply made with sauce, cheese, and a box of dried lasagna noodles or you could incorporate hearty meats like pork sausage in your recipe. Either way, the sauce you use in your preparation should be a classic sauce with a flavor that mingles rather than overwhelms the other ingredients. For this reason, go with Paesana's Marinara Sauce.
Paesana's Marinara Sauce offers just enough sweetness and acidity to balance all that mozzarella, ricotta, and parmesan cheese, while also enrobing any meat or veggies you choose to incorporate into your recipe.
Spaghetti & Meatballs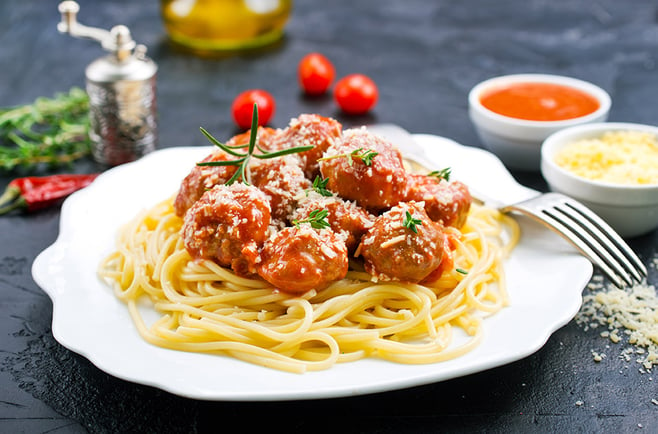 There likely isn't a more traditional Italian-American meal than the combination of a big pot of slowly simmered sauce, perfectly al dente spaghetti, and tender meatballs. This classic dish is everyone's favorite Sunday dinner, with eaters of all ages diving into a huge plate with a fork in one hand and a slice of crusty Italian bread in the other.
Even though two of the main ingredients are explicitly named in the title of this dish, there's still a fair amount of wiggle room. Rather than form your meatballs with the traditional trifecta of ground pork, beef, and veal, you could opt to go full beef or even choose to go with ground chicken. Also, while spaghetti is right there in the "spaghetti and meatballs" moniker, you could substitute any long pasta, like bucatini, if it's all you have in your pantry.
As for the sauce, spaghetti and meatballs is perhaps best paired with the flavor of a sauce that's been simmering on the stovetop for hours. Here, you'll want a jar of Paesana's Sicilian Gravy with deep, rich flavors bursting forth from this traditional recipe. Fill your sauce pot with plenty of this sauce, then add your seared meatballs—or add the meatballs raw and let them simmer in Paesana's sauce all day until perfectly cooked.
Penne Alla Vodka
This fantastic and authentic Italian dish is a silky restaurant favorite. But guess what—it can be just as succulently smooth when prepared in your home kitchen. Traditionally made with vodka and penne pasta, it's typically prepared with heavy cream, crushed tomatoes, onions, and sometimes the addition of meat like grilled chicken, shrimp, pork sausage or even pancetta.
This is another sauce that takes kindly to improvisation and substitutions. Don't have any dried penne? Go with rigatoni or ziti—basically any of the tube pastas work wonderfully with this dish. You can even feel free to drop in peas or any other veggies you have stocked in your pantry or refrigerator. It can be an extremely hearty dish—just don't forget to finish with a generous amount of grated parmesan cheese and a pinch of red pepper flakes!
It's rather clear what Paesana sauce you should use here. Of course, it's our Vodka Sauce. The luscious creaminess of Paesana's Vodka Sauce adds an all-new addition to family dinnertime, as this pink hued classic boasts restaurant-style perfection.
Chicken Marsala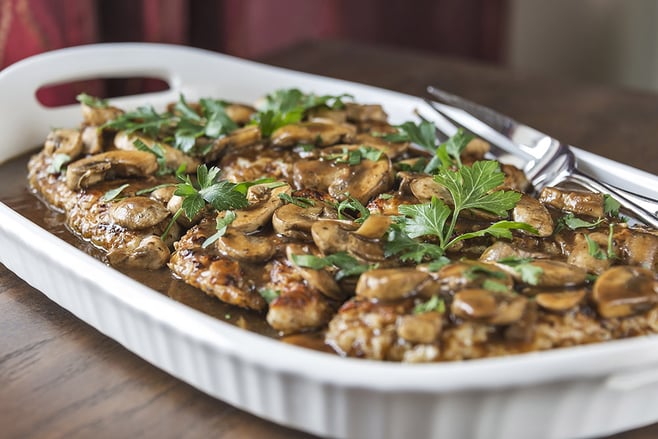 A highly sought-after dish in most Italian restaurant settings, Chicken Marsala can be easy and super fast to prepare in your home kitchen. The Marsala preparation we're used to is actually a variation of the traditional Italian Scaloppine, consisting of thinly sliced meat that's dredged in flour and sautéed in a reduced sauce—in this case, a sauce made with Marsala wine.
Made with golden, crispy, pan-fried chicken, it features a mushroom-mouthful that's earthy and aromatic, with a righteous kick of garlic and a subtle sweetness from sautéed onions. Feel free to substitute pork cutlets if that's what's available. As far as a pasta side, nearly any shape can easily pair with Marsala sauce. Prepare your pasta plain, with maybe some olive oil, and use any additional Marsala sauce to flavor the pasta.
To make this dish at home, grab Paesana's Marsala Cooking Sauce and add it to your pan-fried chicken. And though our Marsala sauce does contain mushrooms, feel free to add fresh, sliced mushrooms of your choice—cremini mushrooms are our personal favorite!
Shrimp Fra Diavolo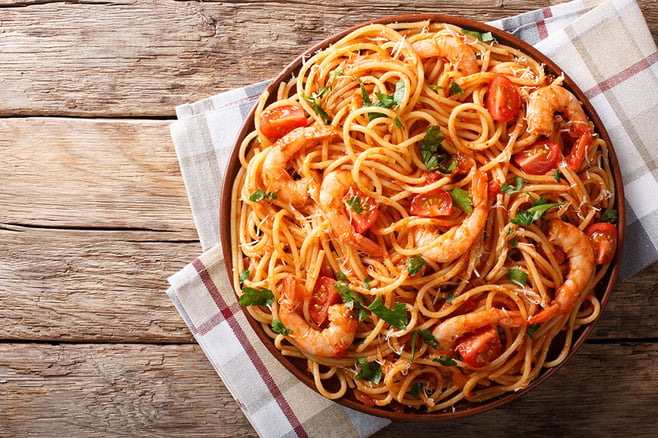 Fra Diavolo is a tomato-based sauce that gets its flavor mostly from olive oil, garlic and oregano—but what sets it apart from similar sauces is the recipe's heavy use of chilies or red pepper flakes, which delivers the infamous heat.
Served over spaghetti or linguine, seafood is usually the main source of protein in the dish. And for the most part, lobster is the go-to crustacean for most restaurants and homespun recipes alike. However, you can get a better bang for your buck by utilizing shrimp in your Fra Diavolo recipe. Buy a bag of frozen shrimp from your grocery store or a pound or two of fresh shrimp from your local fishmonger. Simply saute the seafood morsels, add the sauce, and drape over your choice of pasta.
Paesana's Fra Diavolo pasta sauce adds lively spices like red pepper to its mix of fresh ingredients, such as plum tomatoes, extra virgin olive oil, garlic, and basil, for a sauce that instantly breathes fire into any meal.