Vegan Stuffed Peppers
Stuffed bell peppers is one of our all-time favorite Italian dishes! We love to create a meaty mixture of ground beef and rice, perhaps some chunks of Italian bread soaked in milk, loosely formed and packing into green bell peppers. Sometimes we put them straight into the oven and other times we fry them in oil for extra flavor, before finishing them in the oven.
It's such an amazingly comforting dish, that we wanted to create a version for our vegan friends using Paeana's Plant-Based Bolognese featuring Beyond Meat®. Our recipe skips the ground meat and keeps it simple with our bolognese sauce and rice. We have two versions of Plant-Based Bolognese, Heart and Spicy—for this recipe, we're using Hearty. Try our recipe below and let us know what you think!
Ingredients:
1 25 oz. Jar Paesana Hearty Plant-Based Bolognese
5-6 small-to-medium size green bell peppers with no large ribs
1 cup, long-grain white rice
Extra virgin olive oil
Parmesan, or parmesan substitute to keep it entirely vegan
1 teaspoon sugar
Featured Product: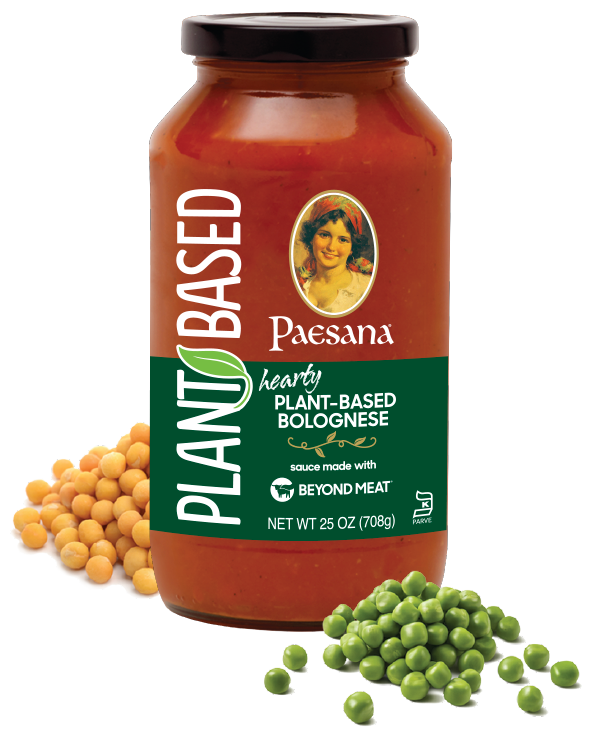 Paesana Hearty Plant-Based Bolognese Sauce
Buy Now
Directions
1
Cook the rice according to the directions on the package. You should cook the rice well ahead of time so that it has a chance to cool down to room temperature before you begin handling it.
2
To prepare the green bell peppers, cut off the tops and remove all of the seeds and the ribs using a spoon to scrape the inside. Set aside.
Cook's Note
While we use green bell peppers, you can use any color pepper you like. If you're not a fan of green peppers, we suggest using red bell peppers.
Let's Continue
1
In a large bowl, combine the cooked white rice and the jar of Paesana Plant-Based Bolognese Sauce. Incorporate only some of the sauce at a time. You don't want a soupy texture. Try to aim for a combination that can be scooped with a fork, rather than a spoon. Reserve some of the bolognese sauce in the jar. Set the mixture aside.
2
Spoon a tablespoon of extra virgin olive oil into each pepper and swirl it around. Then, place a tablespoon of the reserved bolognese sauce into the bottom of each bell pepper cavity.
3
Scoop a portion of your rice and bolognese mixture into each green bell pepper. Do so evenly and make sure it's not too densely packed. Keep it loose.
Cook's Note
You don't have to use all of the mixture. If some is left over, that's OK. You can always snack on spoonfuls of the mixture while you wait for dinner to be ready.
The Finish
1
Preheat your oven to 350-degrees
2
Heat a cast iron skillet over medium heat and pour in about two tablespoons of extra virgin olive oil.
3
While the oil is heating, place a few ladlefuls of bolognese sauce (or regular marinara sauce, if you have it on hand) into a casserole dish.
4
Once the oil is hot, place peppers into the pan on their sides. Over the next 25-30 minutes, cook all of the peppers turning constantly to brown all sides. Also brown the bottom of the peppers.
5
As each pepper is browned, place it face-side up in the sauce-lined casserole dish. Continue until all the peppers are browned and in the casserole.
6
Drizzle the tops of the stuffed peppers with olive oil, and more of the sauce, if any is left over.
7
Cover the casserole with tin foil and bake for 1 hour.
8
Serve immediately with grated parmesan cheese or a parmesan cheese substitute.