Turkey (and Chicken) Meatballs
Everyone should be allowed to enjoy juicy, savory meatballs. Yes, even those who don't eat beef. Though traditional Italian-American meatballs are made with beef—sometimes as part of a trifecta with veal and pork—there are plenty of people who either don't eat beef for health reasons or simply because they don't enjoy it. But everyone deserves a chance to eat this ultimate comfort food. And though you might think it's impossible, we're here to show you that you can create moist, flavorful meatballs using ground turkey and chicken—the perfect addition to a pot of Paesana Sicilian Gravy.
Yield: 15-25 meatballs, depending on size
Total: About 2 hours
Active: About 45 minutes
Ingredients:
1 ½ lb combination of ground turkey and ground chicken
3 tbsp reserved Paesana Sicilian Gravy
3 tbsp heavy cream (half-and-half also works)
2 eggs
½ bunch chopped parsley
1 cup unseasoned breadcrumbs
1 cup Pecorino Romano cheese
3-4 cloves of garlic, grated on a microplane
Salt and black pepper
Featured Product: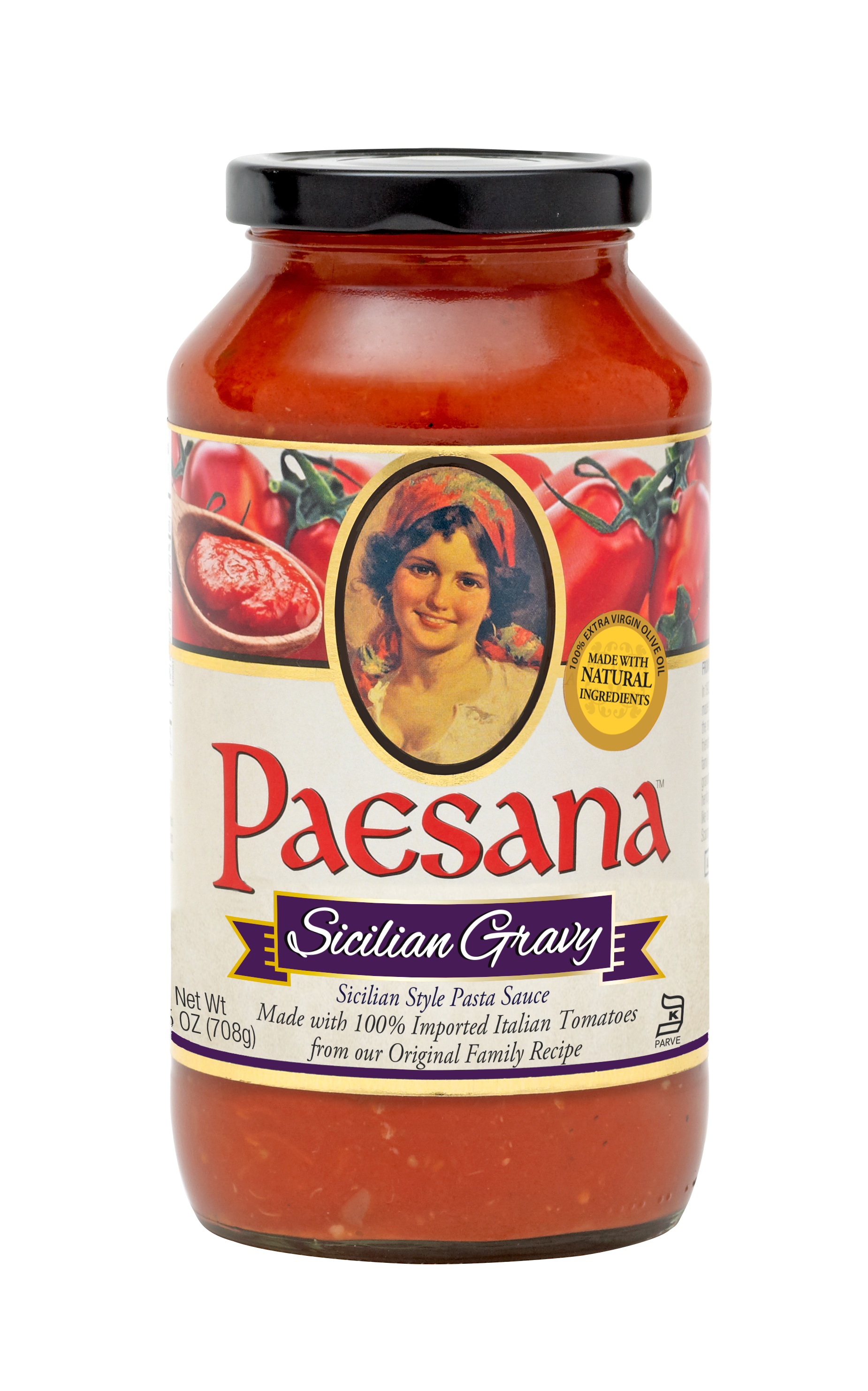 Sicilian Gravy
Buy Now
Directions
The key to making turkey and chicken meatballs as savory as typical beef meatballs is developing plenty of flavor from the inside out. To make this happen, you want to create what is in essence a flavor slurry—this mixture of ingredients makes meatballs utterly delicious no matter what meat you decide to use. Once your slurry is developed, you can add the chicken/turkey until you've achieved the desired balance between meat and other ingredients.
1
Place ¼ cup of the reserved Paesana Sicilian Gravy (or plain tomato puree) into a large mixing bowl.
2
Add ¼ cup of heavy cream (or half-and-half), 2 large eggs, ½ bunch chopped parsley, 1 cup unseasoned breadcrumbs, 1 cup pecorino romano cheese, 3-4 garlic cloves grated on a microplane or the smallest shredding holes on a box grater.
3
Add a generous pinch of salt and a few twists of fresh black pepper.
4
Mix well, and what you have is a perfectly blended flavor slurry.
Cook's Note
For meatballs, it's all about Pecorino Romano cheese. While it has a similar flavor profile to Parmesan cheese, Pecorino Romano (made from lamb's milk) is saltier so it does more to flavor the meat from the inside than the nuttier Parmesan (cow's milk).
Start to incorporate the meat.
1
Combine the ground turkey and chicken until homogeneous.
2
Place all of the meat in a large mixing bowl with about 50% of your flavor slurry.
3
Combine using your hands until mixed well.
4
Add more flavor slurry as needed.
You might end up with some of the breadcrumb mix left over, but that's OK. Remember, you can always add more, but you can't take away. Also, keep in mind that as you mix the meat with the ingredients, you might find that you need more moisture or more cheese and breadcrumbs. Simply add what you need—be it reserved sauce, cream, cheese, etc.—as you see fit. Italian food can be less about measurements than it is about feeling.
Shaping Your Meatballs:
Your meatballs should reach a nice, firm consistency. Now you can start to shape the mixture into ball form.
1
Wet hands with water to prevent sticking, keep doing this as you go.
2
Cup your hands and roll the meat into small-to-medium sized meatballs.
Try not to pack too tightly. They should hold the shape of a ball, rather than sink or flatten out. You can also bounce back and forth between your hands, squeezing gently, before rolling on the palms of your hands.
Cooking Your Meatballs:
If you're using turkey and chicken meat for your meatballs, you definitely want to sear them in a pan before dropping into your waiting pot of simmering sauce
1
Coat the bottom of a pan with olive oil.
2
When the oil is hot, begin carefully placing meatballs in the pan.
Cook's Note
To safely check if oil is hot, wet the handle end of a wooden spoon and dip it into the oil. When the wooden spoon bubbles, the oil is hot.
Brown the meatballs on all sides. You don't want to crowd the pan, so cook the meatballs in batches. When meatballs are fully browned on all sides, place into a pot of sauce you've had simmering on the stovetop. Continue cooking meatballs in the sauce for 1 hour. Check the internal temperature of the meatball. Ground turkey and chicken meatballs should reach an internal temperature of 165-degrees fahrenheit.
Finally, pair with your favorite pasta, serve with crusty Italian bread and enjoy!