The Ultimate Italian Sub
A fully loaded Italian sub is truly the king of all sandwiches. A blistering array of colors, textures, and tastes, the classic Italian sub comes in many different forms from just about every deli, no matter the city. And while those lunch establishments build beautiful sandwiches with all of the Italian trimmings, there is no greater meal-time pleasure than creating your very own Italian sub in your kitchen.
Your personal Italian sub can be constructed using basically any ingredients you wish—as long as you follow the standard mix of Italian cured meats, salty cheese, and crisp veggies on Italian bread, with a kick of acidity. This recipe features our favorite meats like capicola and prosciutto, along with sharp provolone cheese, thick-cut tomatoes, and Paesana's own fire-roasted peppers. Follow along and we'll see you at the lunch counter.
Ingredients:
1 large italian sub roll
1 tablespoon extra virgin olive oil
½ tablespoon balsamic vinegar (or red wine vinegar)
1 teaspoon dried oregano
¼ pound provolone cheese
¼ pound capicola
¼ pound spicy capicola
¼ Genoa salami
¼ pound prosciutto
1 large tomato, sliced thick
¼ small onion, sliced thin
2 handfuls of arugula
4 slices Paesana fire-roasted peppers
4 fresh basil leaves
Freshly ground black pepper
Featured Product: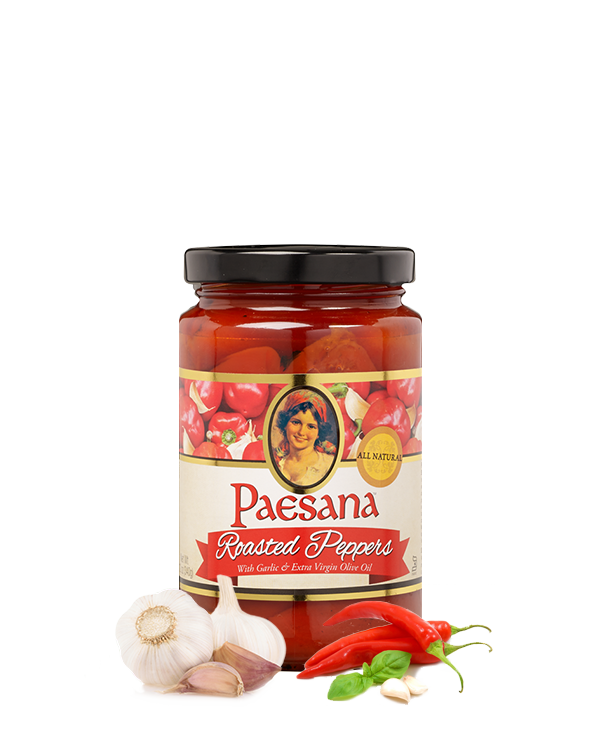 Paesana Fire Roasted Peppers with Garlic and Extra Virgin Olive Oil
Buy Now
Directions
1
First things first, make your dressing for the sub. Pour the extra virgin olive oil and vinegar of your choice into a small bowl. Add the dried oregano and stir to combine.
2
Slice the sub roll open lengthwise using a serrated bread knife. Using a basting brush, apply the olive oil/vinegar/oregano dressing to the inside top and bottom of the sub.
Cook's Note
Be sure not to use too much dressing on the bread. You don't want it to be a soggy mess. The tomatoes and peppers you'll add later will bring even more moisture to the sandwich, so a light brushing on both sides will suffice.
Let's Continue
1
Begin to layer your meats. You can try any order you like, but we start with spicy capicola, then salami, then regular capicola, and finally, prosciutto.
2
Next, add the onion slices. We like to use a sweet yellow onion, but feel free to use red or white, depending on your preference. On top of the onions, add Paesana's fire roasted peppers.
3
Cheese comes next. Lay the sharp provolone atop the onion and roasted pepper layer. And on top of the cheese goes the tomato slices.
Cook's Note
The cheese acts as a barrier between the tomatoes and the red peppers, two veggies with a high moisture content.
The Finish
1
Brush the tomatoes with a little bit of the dressing from earlier.
2
Next place the two handfuls of arugula onto your delicious pile of meat, cheese, and veggies. You're almost done!
3
Add your fresh basil leaves, drizzle more dressing, and add some freshly ground black pepper. Cut and serve!