Print This Recipe
Stovetop Whole Fish
Most times when you think about cooking a whole fish—head and tail included—it's easy to plan on roasting it whole in the oven. And fish do take this method like, well, a fish to water. The skin crisps up beautifully, and the meat becomes soft, supple, and delicate. All that succulent meat in the cheek area roasts to a perfect tender bite, while the more adventurous eaters revel in other, typically uncharted parts of the fish, all rendered to juicy morsels.

But there's another way to cook a whole fish—and it might actually be more spirited in flavor than the oven-roasted version. Here, a whole fish is cooked zuppa di pesce (fish soup) style. This method of preparation allows the flavors of the fish to stand on its own, enhanced by other ingredients that include onion, garlic, parsley, and Paesana's Marinara Sauce. In this recipe, you can use any white fish you have at your disposal. In our recipe, we're going with a 2 ½- to 3-pound sea bass.
Yield: 4 Servings
Total: About 40 mins
Active: About 40 mins
Ingredients:
2 ½ to 3 lb. whole fish scaled and gutted (with head and tail on)
¼ cup extra virgin olive oil
½ cup chopped onion
1 teaspoon chopped onion
2 tablespoons chopped parsley
½ cup dry white wine
½ jar Paesana Marinara Sauce (reserve the rest to add as needed)
Red pepper flakes (optional)
Salt and pepper, to taste
Featured Product: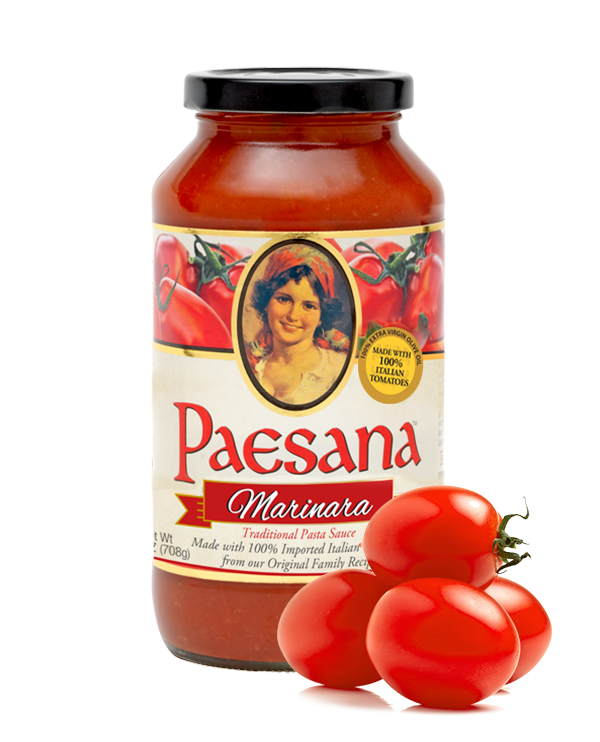 Paesana Marinara Sauce
Buy Now
Directions
1
Wash the fish inside and out and pat thoroughly dry with paper towels. Season inside and out with salt and freshly ground black pepper and set aside.
2
Set a large sauté pan, big enough to accommodate the entire fish comfortably, on the stovetop. Pour in all the olive oil and the onion. Then, turn the heat to medium. Cook the onion until barely translucent, then add all the garlic.
3
When the garlic becomes a pale gold, add the parsley. Stir it a couple of times then quickly add the white whine.
Cook's Note
Be careful not to burn garlic. The bitter, unpleasant flavor of burned garlic easily seeps into the delicate white flesh of sea bass. Avoid burning garlic by closely monitoring the heat and adding the white wine just after achieving a pale gold color.
Let's Continue...
1
Simmer the wine for about a minute, then add half a jar of Paesana Marinara Sauce. Here's where you have a bit of freedom over the final product. If you prefer a more "saucy" zuppa di pesce, add more.
2
Cook at a steady, moderate simmer in the uncovered pan for 20 minutes, stirring occasionally. Taste for seasoning, adding salt and pepper if it tastes a bit flat.
Cook's Note
If you notice the zuppa is running too thin and watery, add a tablespoon of cornstarch and the same amount of tomato paste to thicken it up. You're looking for the consistency of stew, rather than soup.
The Finish!
1
Add the whole fish and sprinkle with red pepper flakes if you want the dish to be spicy. Cover the pan and turn the heat to medium low.
2
Cook for 10 minutes, then turn the fish over and cook an additional 8 minutes. Once the fish reaches an internal temperature of 145-degrees fahrenheit and the flesh flakes easily, turn off the heat.
3
Transfer the fish to a serving platter very gently, using two spatulas. Spoon the contents of the pan over and around the fish.
4
Watch out for bones, eat, and enjoy!