Date Night Shrimp Fra Diavolo
Let's spice things up on stay-at-home date night with a dish that translates from Italian to "brother devil." Fra diavolo has been a popular application for pasta ever since it was introduced decades ago by Italian-American seafood aficionados who wanted a touch of heat with their pasta dishes. Gleaning much of its flavor from olive oil, garlic, and oregano, fra diavolo sauce is elevated by the heavy use of chilies or red pepper flakes.
We love the infamous heat of fra diavolo sauce served over spaghetti or linguine, with plenty of tender and savory shrimp. The recipe we've developed is quick and easy—perfect for an impromptu weeknight romantic dinner. It's made even easier with the addition of Paesana's carefully crafted Fra Diavolo pasta sauce, which cuts prep time in half without sacrificing pure ingredients and remarkable flavor.
Turn up the heat and awaken your senses with this shrimp fra diavolo dinner for two—that actually makes four servings because as we all know, one of life's simple pleasures is eating cold pasta and sauce right out the tupperware in front of the fridge.
Gather Your Ingredients:
1½ pounds shelled and deveined medium shrimp
1 box spaghetti or linguine
¼ cup extra-virgin olive oil
Crushed red pepper (to taste)
Salt (to taste)
Freshly ground black pepper (to taste)
Red pepper flakes (optional, to taste)
1 small onion, finely chopped
2 garlic cloves, minced
2 cups Paesana Fra Diavolo Pasta Sauce
2 tablespoons finely chopped parsley
Crusty bread, for serving
Featured Product: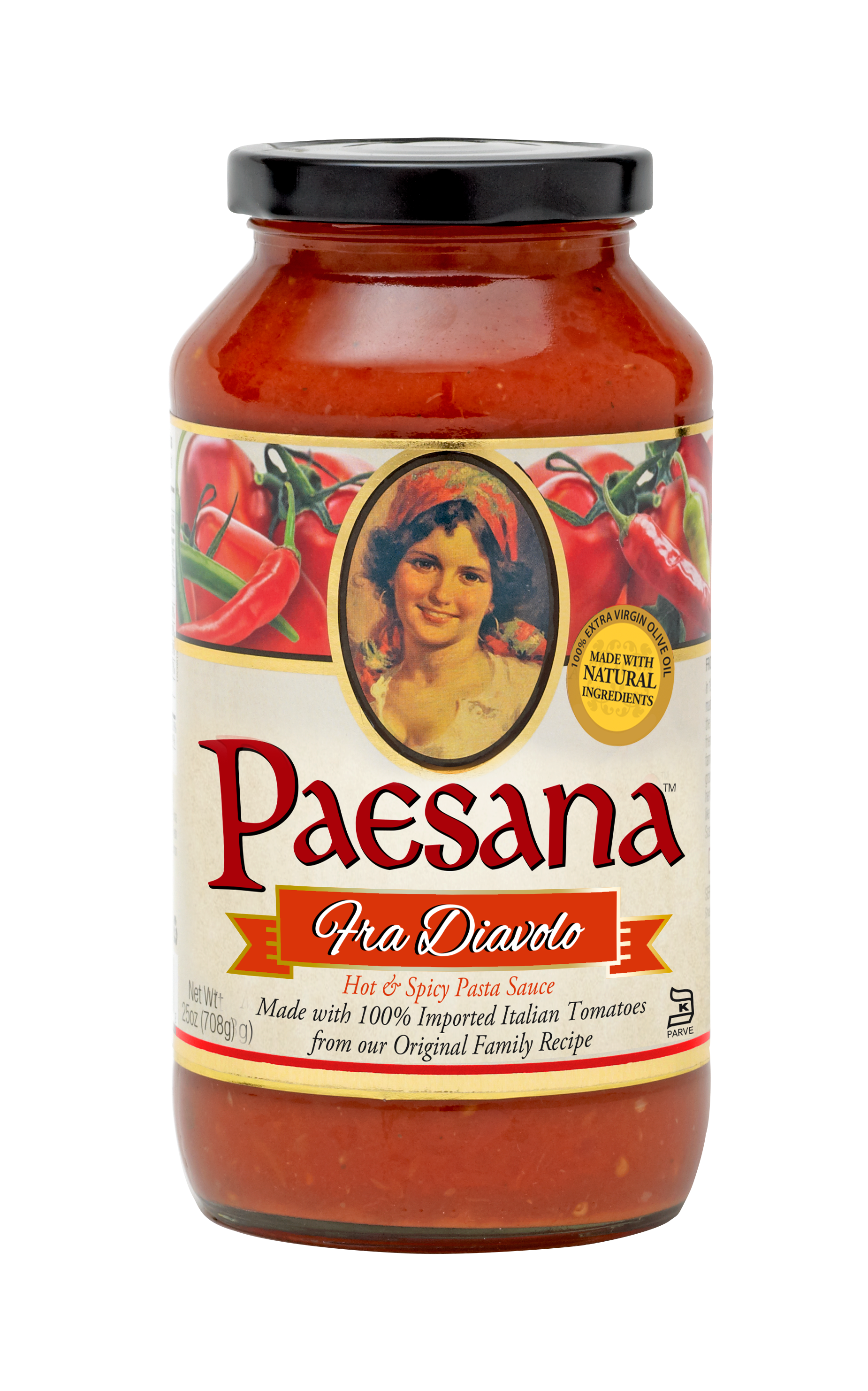 Fra Diavolo
Buy Now
Directions
1
In a medium bowl, toss the shrimp with 2 tablespoons of the olive oil and crushed red pepper (optional).
2
Season with salt and black pepper. Let stand for 20 minutes. This gives the shrimp a chance to absorb the seasoning, which enhances the flavor.
3
In the meantime, fill a large saucepan with water and generously salt—this will be for the pasta.
4
Heat a large skillet until very hot
5
Add the shrimp and cook over high heat until lightly browned and nearly cooked through, about 2 minutes.
6
Transfer the shrimp to a plate and set aside.
7
When the water in your saucepan boils, add the pasta and cook to almost al dente.
*You don't want to cook it all the way through, as it will continue to cook when you add it to the skillet.
Cook's Note
If you purchase shrimp with the shells on, peel them first. But be sure to freeze the discarded shells to make a seafood stock at a later date.
Let's Continue...
1
Add the remaining 2 tablespoons of olive oil to the skillet along with the onion and a pinch of salt over high heat.
2
Cook the onion until translucent, then add the garlic and cook until it's lightly browned.
*Be careful not to burn the garlic, as that will make the entire dish taste bitter.
3
Once the garlic and onion are cooked, return the shrimp and any accumulated juices back to the skillet.
4
Add 2 cups of Paesana Fra Diavolo sauce.
5
Here's where you can add extra red pepper flakes if you want the dish extra spicy.
You'll likely bring some pasta water into the skillet as you do this—that's OK! The starchy pasta water will encourage the sauce to adhere to the long strands of spaghetti or linguine. In fact, as it cooks, you might notice the moisture begin to evaporate. If it evaporates too much, ladle in some pasta water from the saucepan—a little bit at a time, so you don't overdo it.
Taste for salt and heat. When the flavor is where you want it and the pasta is done, turn off the heat and add the finely chopped parsley. Toss until fully incorporated.
Plate your Shrimp Fra Diavolo and serve with crusty Italian bread. Though it's not traditional in Italy to serve seafood dishes with cheese of any kind, grated parmigiano-reggiano can be just mild enough to complement the dish. Serve some on the side, along with extra red pepper flakes.
Mangia!