Print This Recipe
Salmon With Tomato Basil Sauce
There's something special about a good piece of fish during the summertime. And when that fish is salmon, it's an especially delicious dinner entry. Salmon straight up shines during the summer months, no matter if it's charred on the grill, grilled on the stovetop, baked in the oven, smoked or shaped into patties.
But one of our all-time favorite ways to prepare salmon is to simply sauté it and serve with our Tomato Basil pasta sauce. We find the garden-fresh flavors and slightly sweet acidity of Tomato Basil perfectly complements the rendered fattiness of this robust and healthy fish. And in order to reel in even more flavor, we like to incorporate some chopped bell pepper, onion and garlic into the mix. This simple recipe makes for a wonderfully filling meal when paired with our Green Beans with Lemon and Capers side dish.
Yield: 4 Servings
Total: About 25 mins
Active: About 25 mins
Ingredients:
20 oz. salmon fillet, cut into manageable portions
6 tablespoons butter (at least)
2 cloves garlic, minced
2 medium onion, chopped
1 bell pepper, any color you like, diced
1 25 oz. jar Paesana Tomato Basil Sauce
Additional basil, optional
Salt and pepper to taste
Featured Product: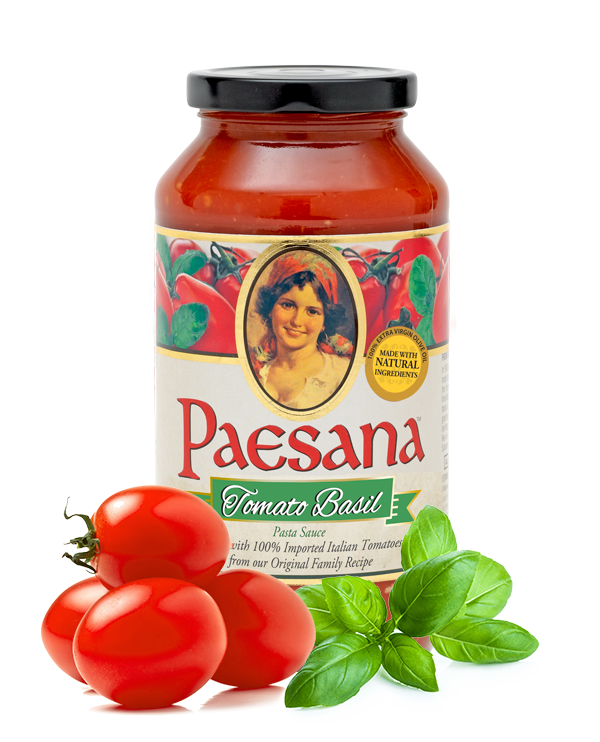 Tomato Basil Pasta Sauce
Buy Now
Directions
1
Cut salmon fillet into portions so that it fits into a nonstick skillet. Season with salt and pepper.
2
Over medium heat, melt half the butter until it begins to foam and bubble. Add salmon flesh-side down and cook until golden. About 4 minutes.
3
Flip the salmon and cook the skin side until the salmon feels firm to the touch and the skin is crispy. About 3 minutes.
4
Remove salmon from the pan and set aside.
5
Turn heat to medium-low. In the same pan where you cooked the salmon, add the remaining butter. Using a wooden spoon, scrape the button of the pan to unleash all of those little browned bits of flavor. If you notice it's too dry, add water, one tablespoon at a time.
6
When the butter begins to bubble, add the onion and cook until barely translucent. Add the garlic and sauté for less than a minute, constantly stirring to keep it from burning.
7
Add the chopped bell pepper and pour in the jar of Paesana Tomato Basil Sauce. Simmer, stirring from time to time, until sauce thickens to desired consistency.
8
Add salt and pepper to taste, along with extra chopped basil if desired.
9
Ladle the sauce onto a plate and place the salmon fillet on top.
10
Serve immediately!
Cook's Note
After the salmon is removed from the heat, you'll need to move quickly so that the fish remains warm. To save on time during this step, make sure you have all other components chopped and ready to go. In cooking terms, this act of gathering and arranging ingredients and tools before turning on the stove is known as mise en place.