Pesto With Trofie
As we discussed recently in our Why We Love Pesto article over in the From Paesana, With Love blog, pesto is perhaps one of the most seductive of all Italian pasta sauces. Deeply imbued with the fragrance of fresh basil, the bright green sauce is never cooked or heated. Instead, the basil is presented raw so that its aroma shines through, while the other components including olive oil, garlic, pine nuts (pignoli), butter, and grated Italian cheeses are also given room to deliver unimpeded fresh flavor.
Old World cooks insist that if it isn't made in a mortar with a pestle, it isn't pesto. While this is linguistically true (pesto comes from the word pestare, which means "to pound or grind"), using this method is much, much more difficult than simply utilizing a food processor. As such, the modern method is the recipe we'll be focusing on today.
When it comes to what type of pasta to pair with your pesto, you want to use a variety with some spirals or nooks and crannies. This helps the finely chopped ingredients in the sauce to cling to the pasta, ensuring every bite is full of flavor. While there are many varieties of pasta shapes that fit this description, our favorite for pesto is trofie. A short, thin, twisted pasta, trofie was first developed in the same northern Italian region that dreamed up pesto—it's as if they were meant to be.
Now, let's head inside from the garden with bunches of basil and start creating our pesto sauce—using pine nuts from Paesana, of course! This is a super simple and quick recipe, resulting in one of the most complex and dynamic pasta dishes you'll ever eat!
Ingredients For The Food Processor:
2 cups tightly packed fresh basil leaves
½ cup extra virgin olive oil
3 tablespoons Paesana Pignoli Nuts
2 garlic cloves, chopped fine before putting in the processor
Salt to taste
Ingredients For Use By Hand:
½ cup grated parmigiano-reggiano cheese
2 tablespoons grated romano cheese
3 tablespoons butter, softened to room temperature
1 ½ pounds trofie pasta
Featured Product: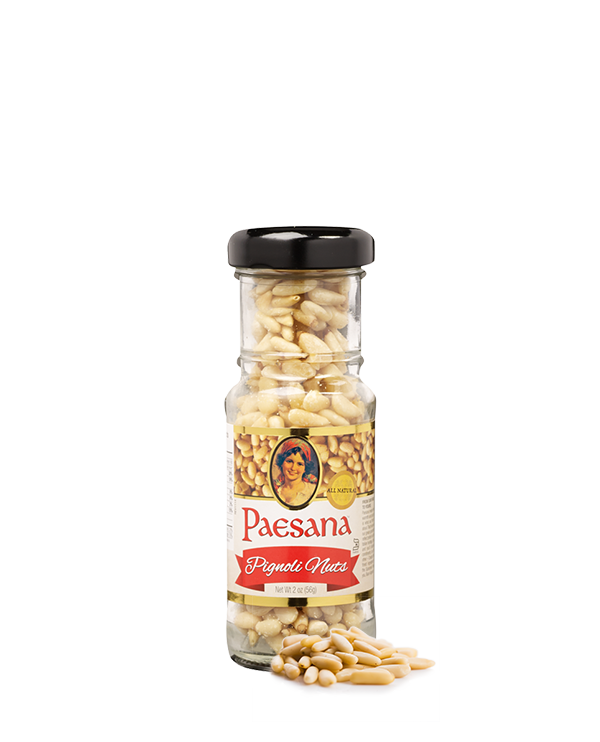 Pignoli Nuts
Buy Now
Directions
1
Soak and wash the fresh basil in cold water for only a few seconds. Then, using a paper towel, pat the leaves until thoroughly dry. Leave the basil whole.
2
Place the basil leaves, olive oil, pine nuts, chopped garlic, and a generous pinch of salt in the food processor. Process the mixture until it takes in a uniform, creamy texture. [See note below for freezing instructions.]
3
Once the mix reaches desired consistency, transfer it to a bowl and incorporate both cheeses by hand.
Cook's Note
Mixing the cheese in by hand helps to achieve the preferred texture. This gentle method allows the grated cheese to maintain a fine crumble, resulting in a notably supreme consistency.
Let's Continue...
1
Once the cheese is evenly distributed with the other ingredients, mix in the butter until it's completely combined into the sauce.
2
At this point, you can set the pesto aside while you prepare the pasta. Be sure not to overcook, as a perfect al dente is ideal—especially when it comes to pesto.
3
Remove the pasta from the boiling pot, but hold onto the pasta water.
4
Spoon the pesto sauce over the warm pasta until you've reached the desired ratio of pasta to pesto. If necessary, dilute it slightly with the reserved pasta water, only about a tablespoon or two should do the trick.
Cook's Note
If you're making pesto with the intention of freezing it, follow the recipe until you get to the steps with cheese and butter. You'll want to add those components after the pesto has thawed and just before serving.
The Finish!
1
Serve and enjoy! Keep in mind that this recipe for pesto also works well with non-pasta dishes. Feel free to serve this wonderful sauce over shrimp, grilled chicken or even as a dip for mozzarella sticks!