Pasta e Fagioli
There are few dishes more rustic in its spirit and sensibility than pasta e fagioli. A simplistic yet hardy dish, "pasta and beans" is the type of one-pot meal you can imagine generations of Italian-Americans and native Italians before them using to fill their bellies after a long day in the field. Pasta e fagioli is an economically sound soup, feeding lots of people with relatively inexpensive ingredients. But more than a mere cost-effective dinner, pasta e fagioli reveals a depth of flavor that's deeply rooted in the very basics of Italian cuisine.
Pasta e fagioli starts with a classic soffritto of chopped onion, carrot, and celery, along with the requisite extra virgin olive oil. Then it's made hearty with the staples of most Italian kitchens, including tomato sauce, beans, broth, parmigiano-reggiano, pasta, and sometimes meat bones for extra flavor. It can also be thrown together relatively quickly, so it's perfect when you need a cheap meal that you can stretch over multiple days during the week.
Our version below does include chicken broth and some meat for flavor, but you can easily remove these from the ingredient list, should you prefer a fully vegetarian version. One other note before we get started: Authentic pasta e fagioli should be made with cranberry beans—also called Roman or Scotch beans. Brightly marbled in white and pink or deep red hues, cranberry beans have a subtle chestnut-like flavor—completely unique to all other beans. You can purchase cranberry beans fresh in the spring and summer, but the canned variety—the kind we use in our recipe—works just as well.
Yield: 6-8 Servings
Total: 1 Hour
Active: 40 Minutes
Ingredients:
¼ cup extra virgin olive oil
3 tablespoons chopped onion
4 tablespoons chopped carrot
4 tablespoons chopped celery
Meat on Bone (optional)
1 jar Paesana Marinara Sauce
2 cans cranberry beans (Roman or Scotch beans)
4 cups (or more as needed) basic chicken broth (or vegetable stock, water)
Salt and pepper
1 box ditalini pasta (or other small tube pasta)
1 tablespoon butter
2 tablespoons parmigiano-reggiano
Featured Product: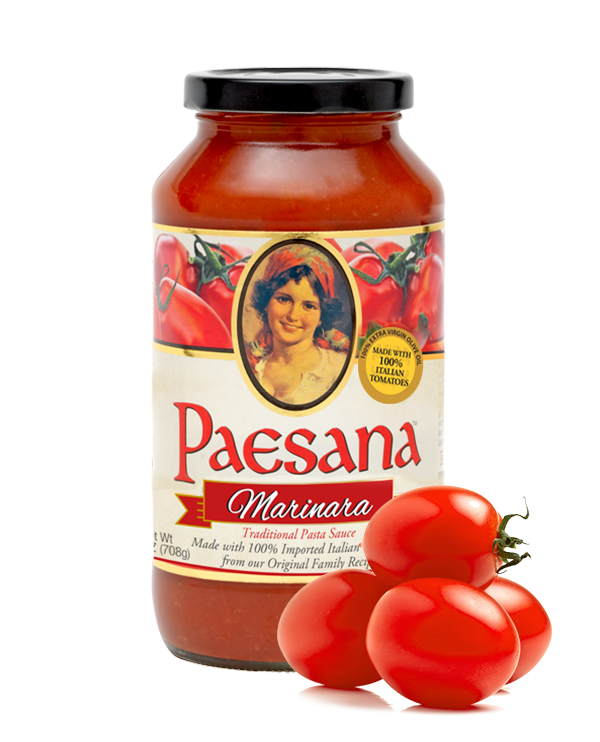 Marinara Sauce
Buy Now
Directions
1
Place olive oil and chopped onion in a deep soup pot and turn the heat to medium. Let the oil and onion get up to temperature, stirring it until it starts to look like a pale gold color.
2
Add the carrot and celery, stirring them to coat well. Season with salt and pepper but be sure to go light on the salt for now.
3
Add your meat bones. Here, you can use 3 or 4 pork ribs or a ham bone. We used a pre-smoked turkey thigh and wing, cut up and packaged by our local grocery store.
Cook's Note
The butcher section is your friend. You can find pre-smoked turkey parts as stated above or other cuts like pork shank, oxtail, turkey necks, and much more. Whichever you choose will add invaluable flavor to your soup.
Let's Continue...
1
Cook the meat and vegetables for about 10 minutes, turning the meat and stirring the veggies occasionally.
2
Add one jar of Paesana marinara sauce. Adjust the heat so that the sauce simmers gently for about 20 minutes.
3
In the meantime, add the beans into a colander and rinse thoroughly.
4
Add the strained and rinsed beans to the sauce, stirring thoroughly until fully coated. Cook for 5 minutes.
5
Add the broth. Cover the pot and bring to a gentle boil.
6
Scoop out about 1 cup of beans and mash them with a fork, wooden spoon or a food mill. Then, return the mashed beans to the pot. Taste for salt and pepper, stir thoroughly.
Cook's Note
If you can't find cranberry beans, fret not! You can also use canned red kidney beans as a fine substitute. And if you only have cannellini beans on hand, feel free to use those instead!
The Finish!
1
At this point you should check if there is a sufficient amount of liquid in the pot to cook the pasta. Add more broth or water as needed. You can also cook the pasta separately if you choose, then add it to the soup before it becomes al dente.
2
If cooking the pasta in the soup, add the entire box once the soup comes to a moderate boil. After about 3-4 minutes taste the pasta for doneness. Stop cooking when the pasta is tender, but still firm to the bite.
3
Swirl in butter and grated cheese.
4
Pour soup into a large serving bowl or ladle into individual bowls. Let the pasta e fagioli settle for about 10 minutes before serving.
5
As usual, serve with crusty Italian bread and enjoy!