New York-Style Pizza
Pizza is everyone's favorite Friday night dinner. It's quick and easy to order, pick up, and eat! But when cooking with Paesana's single-serve jars of pizza sauce, it's just as easy—and a lot more fun—to make your own pizza at home. With a New York-style pizza, you don't want to go too crazy with the toppings, as the dough can be delicate and an overload of toppings could make it hard for the pizza to maintain its integrity. In other words, less is more with classic, New York pizza.
Dough:
3 1/2 to 4 cups bread flour, plus more for rolling
1 teaspoon sugar
1 envelope instant dry yeast
2 teaspoons kosher salt
1 1/2 cups water, 110 degrees F
2 tablespoons olive oil, plus 2 teaspoons
Topping:
1 Single-serve jar Paesana New York's Classic Pizza Sauce
1 8-oz. bag shredded low-moisture mozzarella cheese (about 2 cups)
Parmesan cheese
Featured Product: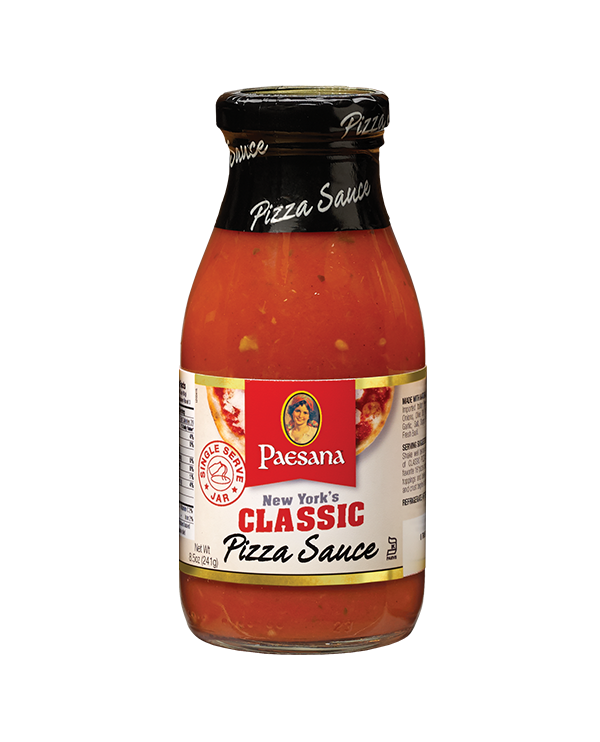 New York's Classic Pizza Sauce
Buy Now
Directions for Dough
1
Combine the flour and salt in a large bowl.
2
Make a well in the center and pour in the warm water.
3
Sprinkle the sugar and yeast over the water and let stand until bubbling, 5 to 10 minutes.
4
Pour the olive oil into the well, then stir with a wooden spoon to make a shaggy dough.
5
Turn out onto a lightly floured surface and knead until smooth and elastic, about 1 minute.
6
Place in a lightly oiled bowl, tightly cover with plastic wrap and let rise in a warm place until doubled in size, about 2 hours.
Cook's Note
Using bread flour will give you a much crisper crust. If you can't find bread flour, you can substitute it with all-purpose flour which will give you a chewier crust.
How To Work Dough
1
Spread a thin layer of flour on your work surface, preferably a large wooden cutting board (ensure the surface is as dry as possible).
2
Place the dough ball on a cutting board and coat with flour from the board.
3
Starting from edge, gently form a crust using your fingertips, shaping from the outside to the center.
4
After pushing the dough into a disc sharpe, pick up the dough from the center using knuckles and turn the dough letting gravity stretch the dough.
5
Place on a lightly floured sheet tray.
Baking the Pizza
1
Place tray on the bottom rack of your oven and bake until crust is golden brown and the cheese is bubbling, about 5 to 10 minutes.
2
If the bottom of the pizza browns faster than the cheese melts, finish pizza under the broiler until cheese bubbles.
3
Let cool 1 to 2 minutes before slicing.