Life-Changing Chicken Parm
Chicken parm is one of those dishes that somehow manages to surpass all expectations, no matter who cooks it or where it's served. Even the very basic kitchen skills can churn out a remarkable and satisfying chicken parm, with crisp breading, ooey-gooey cheese, and just the right amount of bright tomato sauce. But even a reliable, tried-and-true meal like chicken parm deserves the ultimate expression—a version so jaw-droppingly delicious that it has the power to alter the course of one's life.
Hyperbole? No, we're not backtracking here. We mean every word of that. This is by far our favorite way of preparing chicken parm. It's a recipe that features a few zigs and zags in method of preparation and a surprise ingredient here and there. Rather than classic Italian breadcrumbs, we reach for panko; instead of one kind of cheese, we opt for two; bypassing classic marinara, we utilize Sicilian Gravy for touch more richness. Follow along and we promise this will be a hit in your house any day of the week.
*Note: this recipe includes a step to marinate the chicken for one hour. But if you don't have that kind of time, at least give the chicken 20 minutes in the marinade before cooking.
Ingredients:
1 jar Paesana Sicilian Gravy
4 skinless, boneless chicken breasts
5 garlic cloves, finely grated or chopped
¼ cup extra virgin olive oil
⅓ cup lemon juice
4 large eggs
1 tablespoon garlic powder
1 tablespoon onion powder
4 cups panko breadcrumbs
2 cups all-purpose flour
12 oz. low-moisture mozzarella (either pre-shredded or block)
8 oz. grated parmesan
2 tablespoons parsley, finely chopped
Vegetable oil for frying
Salt and black pepper
Featured Product: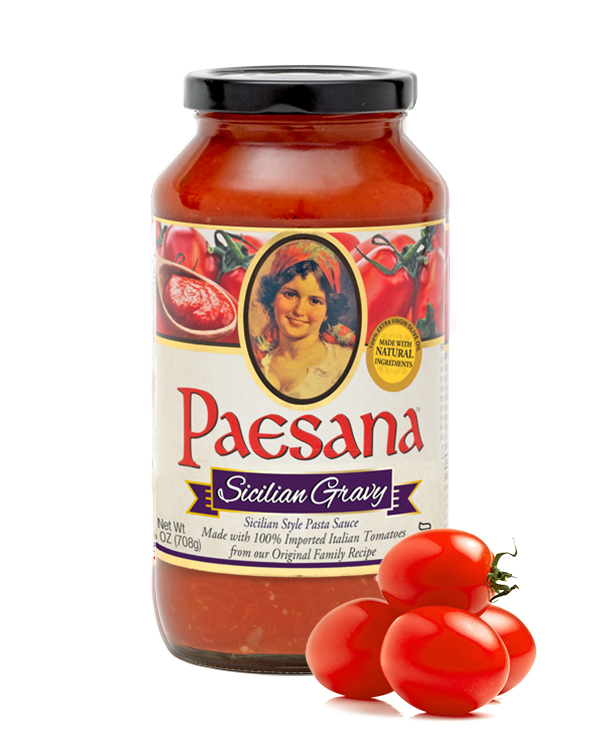 Paesana Sicilian Gravy
Buy Now
Directions
1
Heat the sauce in a pan on one of your back burners. Keep it on low and when it starts to bubble, turn off the heat and cover. No need for the sauce to be piping hot. You'll find out why later.
2
First, let's prepare the chicken. You want thin cutlets, but not too thin. Place the chicken breast flat on the cutting board, with the smooth side up. Holding your knife parallel to the breast, slice along the middle to make a slit. Don't slice all the way through. Get to about ½" from the other side and stop. Open the breast like a chicken-themed book. Place the splayed chicken breast between two sheets of wax paper (plastic wrap works, too). Pound until about ⅓" thick with a meat mallet or rolling pin.
Cook's Note
Careful not to make the cutlet too thin. This preparation utilizes the frying and broiling—if your chicken cutlet is too thin, it will overcook and dry out.
Let's Continue
1
Now, let's marinate! Giving your chicken one hour in the marinade yields the best bites. But we know this isn't always a possibility. Just be sure to give your chicken at least 20 minutes in the marinade before dredging. To marinate, combine the garlic, lemon juice, and olive oil in a large baking dish. Season the chicken cutlets liberally with salt, then place in the marinade, turning to coat completely. Let it sit for 20 minutes or up to one hour.
2
Time to dredge! Your dredging system will require three stations. For the first station, whisk eggs, garlic powder, onion powder, and salt in a shallow bowl. In the second station, place the panko, and flour goes in the third.
3
Remove one cutlet at a time from the marinade (letting the excess drip off). Dredge in flour first, then the egg wash (each time letting the excess fall or drip off). Finally, dredge in the panko, using your hand to press firmly so that the breadcrumbs adhere and no spots are left bare. Gently shake off the excess and set aside. Repeat the process for each cutlet, then chill the batch in the refrigerator for 10 to 20 minutes.
Cook's Note
Chilling the fully dressed cutlets in the refrigerator for 10-20 minutes helps keep the breadcrumbs sticking to the chicken.
Almost There...
1
If you're shredding your own cheese, now's the time to do that. Once shredded, add parmesan and toss to combine. Set aside.
2
Grab your favorite heavy, high-sided skillet and pour in vegetable oil, about 1" up the sides. Heat over medium. You want oil to reach about 400-degrees. If you don't have an instant-read thermometer, the safest method to check the temp is to stick the handle end of a wooden spoon into the oil. If you see many bubbles form around the wood and they start to float up, your oil should be ready for frying.
3
Fry cutlets in batches to keep from crowding the pan. The cutlets should take about 2 minutes per side. Be very careful when lowering the cutlets into the pan. Remember, this is extremely hot oil you're working with!
4
When cutlets are a deep, golden brown, remove and place on a wire rack to drain. Season each cutlet immediately with salt.
Cook's Note
You should probably make an extra cutlet that you can snack on in between frying the chicken and the next step. We call this the cook's treat.
The Finish
1
Turn on your oven's broiler. In a large baking dish or large cast iron skillet, ladle in some of the Sicilian Gravy to form a saucy foundation. Then, arrange the cutlets side-by-side in the dish or pan. It's OK to crowd the cutlets together here. Ladle more sauce on top of the cutlets, allowing the corners of the cutlets to remain uncovered.
2
Cover the cutlets in the mozzarella and parm mixture. Again, cover almost entirely, leaving the corners uncovered. Place under the broiler and broil until the cheese bubbling, with some brown spots showing, and melted completely.
3
Get the chicken out from under the broiler. Let it cool for a few minutes, sprinkle with fresh parsley and claim your prize!