Leftover Turkey Tetrazzini
Here's a recipe you can save for Black Friday or the days following Thanksgiving. No matter the size of your bird or the number of guests you serve, chances are you will have plenty of leftover turkey taking up valuable real estate in the refrigerator. Last week, we shared a blog describing ways to use up those Thanksgiving leftovers—but here, we're going a bit deeper to take you through one of our favorite post-turkey day recipes.
Though it's named for an Italian opera star, Tetrazzini is a dish with roots firmly planted in America. It's origins trace back to the early 1900s in either San Francisco or New York City—no one knows for sure. Often baked as a casserole, Tetrazzini can be made with beef, chicken, tuna, or, you guessed it, leftover Thanksgiving turkey. For our recipe, we use dark meat as it can be cooked and re-cooked for a long time without drying out like turkey breast. For a touch of Paesana, we use some of our earthy mushrooms. Enjoy!
Yield: 6
Total: 45 minutes
Active: 20 minutes
Ingredients:
1 package dry pasta (spaghetti recommended)
4 tablespoons butter
½ jar (8 oz.) Paesana Organic Marinated Mushrooms
2-3 cups chopped dark meat turkey (cooked, skin removed and set aside)
1 small onion, chopped
2 stalks celery, chopped
2 garlic cloves, chopped
1 cup chicken broth
¼ cup heavy cream
½ cup all purpose flour
1 cup Parmigiano-Reggiano
½ cup Italian breadcrumbs (panko or regular, unseasoned)
Drizzle of extra virgin olive oil
Salt and pepper
Featured Product: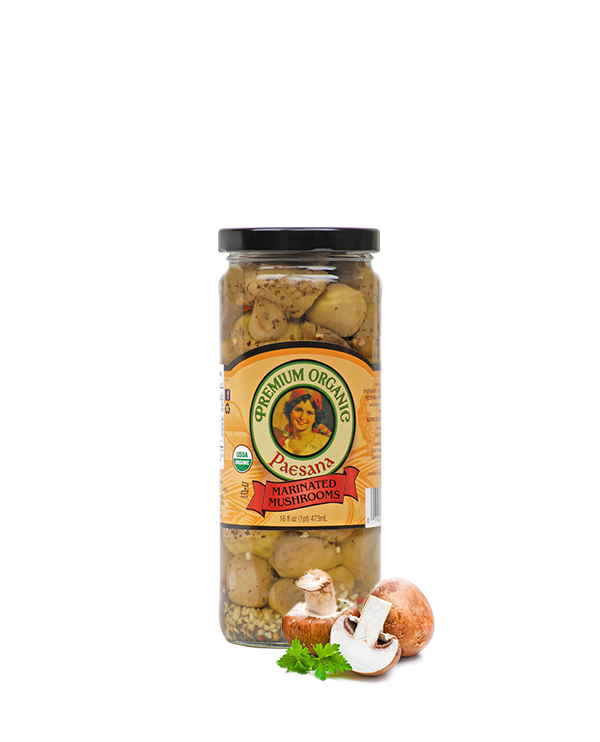 Organic Marinated Mushrooms
Buy Now
Directions
1
Preheat your oven to 375-degrees fahrenheit.
2
While the oven is preheating, take this time to gather your ingredients and chop the vegetables. This recipe moves fast, so you want to have everything in place and ready to go. Drain and chop a half jar of Paesana mushrooms, chop all the veggies, and ready your leftover turkey.
3
Heat salted water until it boils and add spaghetti. It's very important to remove pasta from the boiling water just before it hits al dente. This should take about 8-10 minutes. Your pasta will continue to cook in other parts of this recipe, so make sure not to overcook it here! Also, make sure to reserve a cup of pasta water.
4
Add a drizzle of olive oil and the butter into a large skillet over medium heat. When the butter is completely melted, add the chopped onion and celery, season with salt and cook until translucent.
5
Add the garlic and cook for only about a minute. Manage the heat closely, do not let your garlic burn!
Cook's Note
Using a combination of butter and olive oil is ideal when you want the flavor of olive oil, but you need a more gentle sauté. The butter not only adds lots of flavor, but helps to tame the frying process.
Let's Continue
1
Add the flour and stir thoroughly until some browning occurs. This should take about 2 minutes.
2
Add the chicken broth and the heavy cream. Keep stirring until it comes to a boil and begins to thicken. Add a ½ cup of parm and turn the heat down to achieve a light boil, always stirring, about 3 more minutes.
3
Add the mushrooms, turkey and the cooked pasta to the skillet. If it looks to dry, add a little pasta water, about a tablespoon at a time. The pasta water not only helps to moisten the dish, but also serves to bind the flavors to the pasta.
Cook's Note
Frozen peas are also a great addition to this dish. Add about ½ cup at the same time you add the mushrooms, turkey, and pasta to the skillet.
The Finish
1
After about two minutes on medium-low heat, taste for seasoning. Then, pour the contents of the skillet into a baking dish or casserole, evening it out with a spoon.
2
In a separate bowl, mix the remaining parm with the breadcrumbs. Sprinkle the mixture on top of the casserole.
3
Bake for about 25 minutes or until the top has browned and the contents are bubbling. Let stand for a couple of minutes, then top with chopped fresh parsley (if desired) and serve!
Cook's Note
A quick word on turkey skin. Though it should be removed in preparation for this recipe, turkey thigh skin is absolutely delicious and should not be wasted. Instead, lay it flat on a small, parchment-lined pan and place in the oven or toaster oven. Keep an eye on it, because the fat can sometimes fizz and spurt. When crisp, remove from the oven, let cool, then chop up and sprinkle over top of the Tetrazzini before serving.