Print This Recipe
Italian Sausage & Peppers
Summertime buzzes with memories of Italian feasts that traditionally take the form of outdoor amusement park setups, featuring rickety old rides and the ubiquitous zeppole and, of course, sausage and pepper heroes. A tradition for generations, these fairs are not reserved for Italian-Americans, but their influence is especially apparent in the seemingly endless amounts of feel-good fare these festivals invite.
This week we're bringing those memories back to life and helping you create a feast in your own kitchen with our Italian Sausage and Peppers. For this recipe, we take the juiciest pork sausage and combine it with fresh peppers and onions, piling it all onto a hero roll with sharp provolone cheese and a side of Paesana Marinara Sauce for dipping. Let's get cooking!
Yield: 3 Sandwiches
Total: About 30 mins
Active: About 25 mins
Ingredients:
6 hot or sweet Italian sausage links
1 large onion, sliced
1 large red bell pepper, sliced
1 cubanelle pepper (Italian frying pepper), sliced
4 garlic cloves, sliced
3 club rolls
3 tablespoons vegetable oil
Salt
½ tablespoon dried oregano
6 slices provolone
1 25 oz. Jar Paesana Marinara Sauce
Featured Product: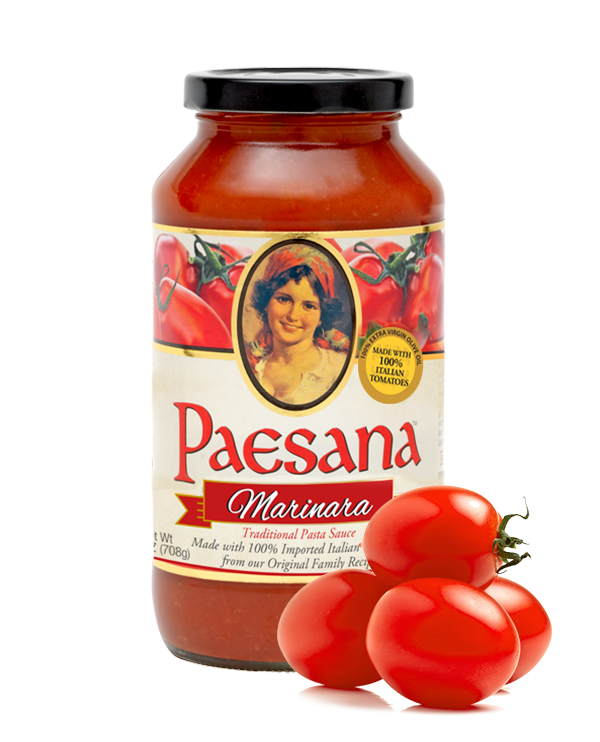 Marinara
Buy Now
Directions
1
Preheat your oven to 350 degrees. Much of the cooking of this dish happens on the stovetop, but you'll finish it in the oven, so it's important to keep it hot and ready.
2
Slice your onions and peppers into long strips and set aside. This recipe calls for one red bell pepper and one cubanelle pepper. If you can't find a cubanelle, substitute it with a green bell pepper.
Cook's Note
Known as the Italian frying pepper, cubanelles are long and bright green when ripe. They're not spicy, but they aren't as mild as regular bell peppers.
Let's Continue...
1
Set a heavy cast iron skillet or stainless steel pan over medium-high heat. Once hot, add a drizzle of vegetable oil and sear the sausages on all sides until browned.
2
Transfer the browned sausage onto a plate and set aside. Immediately add the sliced onions and peppers to the pan, maintaining medium-high heat. Season with salt. Let the onions and peppers char and soften, stirring frequently.
3
Once the onions and peppers are soft, add the garlic and oregano. Mix it all together, then place the sausage on top of the onions and peppers. Carefully transfer the pan to the preheated oven and cook for about 20 minutes or until a thermometer reads 160 degrees and inserted into the center of one of the sausages.
4
Empty a jar of Paesana Marinara Sauce into a medium saucepan and begin to warm over low heat.
Cook's Note
If you're looking for a low-carb, healthier or gluten-free version of this recipe, simply leave out the bread and provolone, and serve the sausage atop a pile of sausage and peppers. To round out the dish with some veggies, sauté broccoli rabe or broccolini with the sausage and peppers.
The Finish!
1
Slice open the club role, but not all the way through—leave one lengthwise side connected. Place two slices of provolone cheese in the open crease of the bread, followed by two sausages, then plenty of onions and peppers.
2
Wrap the sandwich in tin foil and place back into the oven for 2-5 minutes, or until the cheese has melted.
3
Pour the warm Paesana Marinara Sauce into small ramekins for dipping.
4
Unwrap the sandwich and bask in bite after deliciously juicy bite!