Italian Meatloaf
There's something about the frugal act of stretching ingredients that seems to just scream "Italian food." For generations, Italian homecooks have made the most of meager meals by utilizing pantry staples to make a little bit of food go a long way. And one of the dinnertime belly fillers that's most famous for its ability to feed a lot of people on a slim budget is the mighty meatloaf. But we're not going to show you how to make the ketchup-covered meatloaf of some people's youth (not that there's anything wrong with that!). Instead, we've developed a meatloaf that's permeated with the flavors of Italian cuisine.
Using Paesana's Tomato & Basil Pasta Sauce, our meatloaf is aromatic and garden fresh, with a pungent punch of garlic and the unmistakable aroma of basil, finished with a sharp spike of flavor from Parmigiano-Reggiano. For this recipe, we're using ground beef with enough fat to lend some flavor, but not too much where it becomes a greasy mess. There's also a collection of ingredients that you might already have on hand. Pair this main course with a side of mashed potatoes and peas, your favorite pasta, or make it into an Italian meatloaf hero topped with melted mozzarella on toasty semolina.
Yield: 6 Servings
Total: 1hr 25 mins
Active: 20 mins
Ingredients:
2 pounds 85/15 ground beef (use "ribbon" style for best texture)
1 cup seasoned breadcrumbs
2-4 garlic cloves, minced
1 onion, chopped
¼ cup fresh parsley, finely chopped
⅓ cup milk or heavy cream
2 eggs, beaten
½ cup Parmigiano-Reggiano, grated
1 jar Paesana Tomato Basil Pasta Sauce, 24. Oz.
Extra Virgin Olive Oil
Salt and pepper to taste
Featured Product: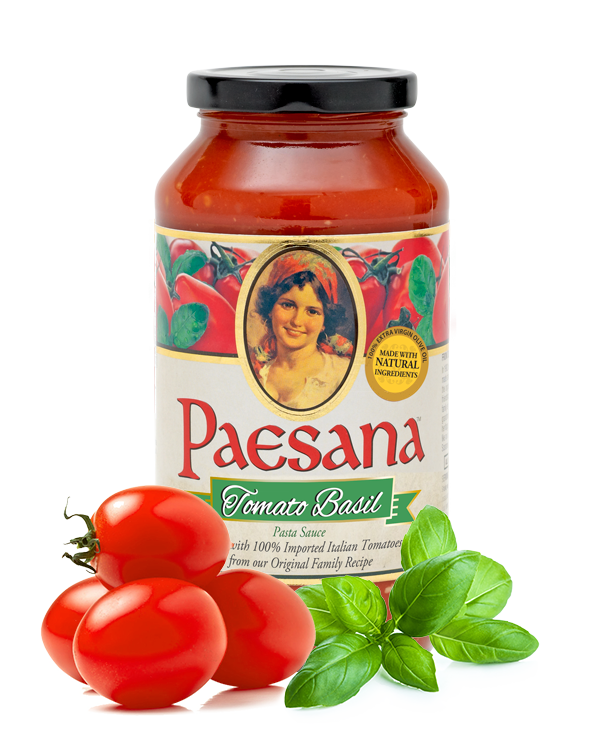 Tomato Basil
Buy Now
Directions
1
Preheat oven to 400-degrees. By the time you mix and form the meatloaf, the oven will be perfectly heated.
2
In a large bowl, add the breadcrumbs, beaten eggs, onion, garlic, Parmigiano-Reggiano, parsley, and ½ cup Paesana Tomato Basil Pasta Sauce. Drizzle in some extra virgin olive oil.
*You're basically making a flavor slurry that you'll combine later with the ground beef. Mix well with a wooden spoon. If you notice it's too dry, add more milk and/or pasta sauce. Conversely, if it's too moist, add more breadcrumbs.
3
Place all the ground beef in a separate, larger bowl and season liberally with salt and ground black pepper.
4
Combine the slurry mix with the ground beef. Now, make sure your hands are washed and you've removed any loose rings. You'll be mixing and forming your meatloaf with your bare hands and it will definitely get messy!
Cook's Note
It's actually quite important to use your hands when mixing the ground beef with your ingredients for either meatloaf or meatballs. Spoons and other utensils use too much pressure and can crush the ground beef into a paste, which makes for an overly dense meatloaf. You should also be careful not to over-mix the ingredients for the same reason.
Let's Continue...
1
When the slurry and ground beef are thoroughly combined, add the mixture to a baking sheet or loaf pan. Just make sure you apply cooking spray to whichever pan you choose.
2
Form the mixture into the classic meatloaf shape. (you know the shape!)
3
Pour some of the pasta sauce over top of the meatloaf, and spread it around until it's completely covered on all sides.
4
Bake for 1 hour and 25 minutes or until a thermometer inserted into the center reads 160-degrees.
Cook's Note
You can give your meatloaf a bubbling cheesy topping with mozzarella. Just remove the meatloaf 10 minutes before it's completely cooked and sprinkled with shredded, low-moisture mozzarella cheese. Bake for 10 more minutes and enjoy!
The Finish!
1
Remove from oven and let rest for 5-10 minutes. Serve with a side of heated Paesana Tomato Basil sauce.