Italian Chili
No matter what the calendar says, it's always time for chili. It could be mid-spring when the weather is just beginning to warm up, smack dab in the middle of the dog days of a scorching summer, or the cold and bleak winter when our bellies really need comfort—it doesn't matter, for chili knows no seasonal bounds. Chili also isn't confined to a set flavor profile. Sure, classic chili gives off that "deep in the heart of Texas" vibe, but the bubbling cauldron of meat, beans, and a cabinet's worth of seasoning can, and often does, blur the lines between regional cuisines. For us, chili is tomato based. And this gives us the perfect excuse to develop our own chili, Paesana style. Behold our recipe for Italian Chili using Paesana's own Fra Diavolo pasta sauce!
Ingredients:
1 25 oz. jar Paesana Fra Diavolo Sauce
2 15.5 oz. jars dark red kidney beans (we used Goya)
1 lb. ground beef (ground turkey is also delicious)
1 large yellow onion, diced
4 cloves garlic, crushed or finely chopped
3 jalapeños, seeded and chopped
2 tablespoons chili powder
2 tablespoons cumin
1 tablespoon Italian herb blend
1 teaspoon cayenne pepper (add more if you like it spicy)
1 teaspoon smoked paprika
1 teaspoon brown sugar
2 tablespoons tomato paste
Juice of 1 lime
1 cup water (just in case)
Cilantro, chopped (optional)
Shredded Mexican cheese blend (optional)
Olive oil
Salt and pepper to taste
Featured Product: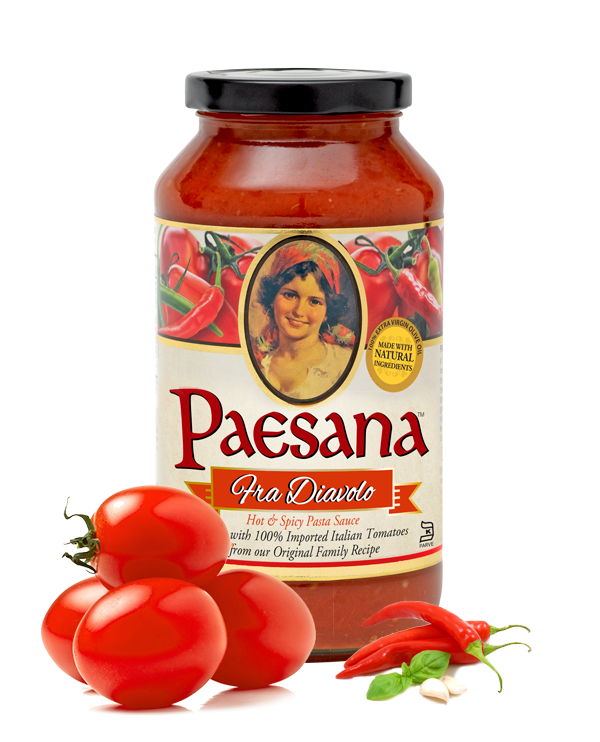 Paesana Fra Diavolo Sauce
Buy Now
Directions
1
Coat the bottom of a large pot with olive oil. Turn heat to medium high. When it's hot, add ground beef and season with salt and pepper. Cook until browned. Remove excess oil with a spoon.
2
Add the diced onion and mix thoroughly with the beef. Add chili powder, cumin, cayenne pepper, smoked paprika, Italian herb blend, and brown sugar. Allow seasoning to toast, stirring constantly.
3
Clear a space in the pot and add garlic, topped with a drizzle of olive oil. When it becomes fragrant, about 30 seconds, stir to combine.
Cook's Note
Whenever cooking with canned beans, be sure to drain and rinse. Canned beans are usually very salty. Draining and rinsing them ensures your dish will not be too salty.
Let's Continue...
1
Add tomato paste and stir. Careful not to let the mixture burn. Keep an eye on the heat and lower if necessary.
2
Add the Paesana Fra Diavolo sauce. Stir to combine. Allow to come up to a simmer. Add a few grindings of fresh black pepper. Taste for salt.
3
Add the chopped jalapeños and the beans. Mix it all together and let it come to a vigorous simmer. At this point, if your chili seems like just a mix of solid ingredients with no real liquid to speak of, add some water, but only a little at a time. If you think it's too soupy, fret not! The liquid will reduce as it cooks.
Cook's Note
We have three in this recipe with the seeds removed. If you consider yourself a chili head and love the spice, add more jalapeños along with the seeds. That's where the real heat resides.
Almost There...
1
Turn the heat down to low. Add lime juice. Give the chili one final stir before covering, leaving the lid slightly ajar using a wooden spoon. Let the chili sit at this low temperature for one hour, stirring occasionally, making sure to scrape the bottom of the pot as you stir.
2
At the end of one hour, taste for seasoning and add salt if necessary. Also check for consistency. Chili should be thick, but it should also flow smoothly. If it still seems too watery, give it more time to cook. The liquid should eventually reduce.
3
If the chili tastes perfect and is the perfect consistency, turn off the heat and cover completely with the lid. Allow the chili to sit like this for at least 20 minutes, or even up to an hour.
Cook's Note
Allowing the chili to rest covered with the heat off gives it a chance to not only develop more flavor, but also to tighten up a bit. After it's rested, you'll notice the chili will take on an almost velvety consistency.
The Finish
1
After it's had a chance to rest, give it another taste. If it's cooled too much to your liking, hit it with a little more heat for about 5 minutes or so. Once ready, ladle the chili into bowls and topped with fresh cilantro, shredded Mexican cheese blend, or raw onions. Or just eat it as is and enjoy!