Eggs In Purgatory (Italian Shakshuka)
Eggs in Purgatory is one of those dishes that seems to come together purely by chance, every single time anyone makes it. Indeed, the very nature of the dish makes the bubbling caldron of eggs and tomato "stew" always feel as though improvised, and prepared using whatever ingredients happen to be within arm's reach of the cook at the kitchen stovetop.
As we covered in a recent blog, Eggs in Purgatory (Uova All'inferno or Uova in Purgatorio) is the Italian version of Shakshuka, a hearty meal with origins in North Africa. The dish is a warming, rich, one-pot affair with soft-cooked eggs simmered and suspended in a pleasantly spicy, tomato sauce that's on the thicker side, flavored with onion, garlic, herbs, and red pepper flakes. Topped with a generous sprinkling of Parmigiano-Reggiano cheese, it's served with mandatory crusty Italian bread and makes for a cozy dinner or even brunch. Though there are many delicious adaptations, we wanted to share our "Italian-style" version, prepared using spicy Italian sausage (optional) and Paesana's Fra Diavolo Pasta Sauce, the perfectly fiery finishing touch to any stay in purgatory.
Ingredients:
4-6 links spicy Italian pork sausage, casings removed (optional)
¼ onion, diced
5 whole garlic cloves, crushed
1 25 oz. jar Paesana Fra Diavolo Sauce
¼ cup basil, chopped
4 large or jumbo eggs
Extra Virgin Olive Oil
Salt and pepper to taste
Red pepper flakes to taste
Parmigiano-Reggiano Cheese
Crusty Bread
Featured Product: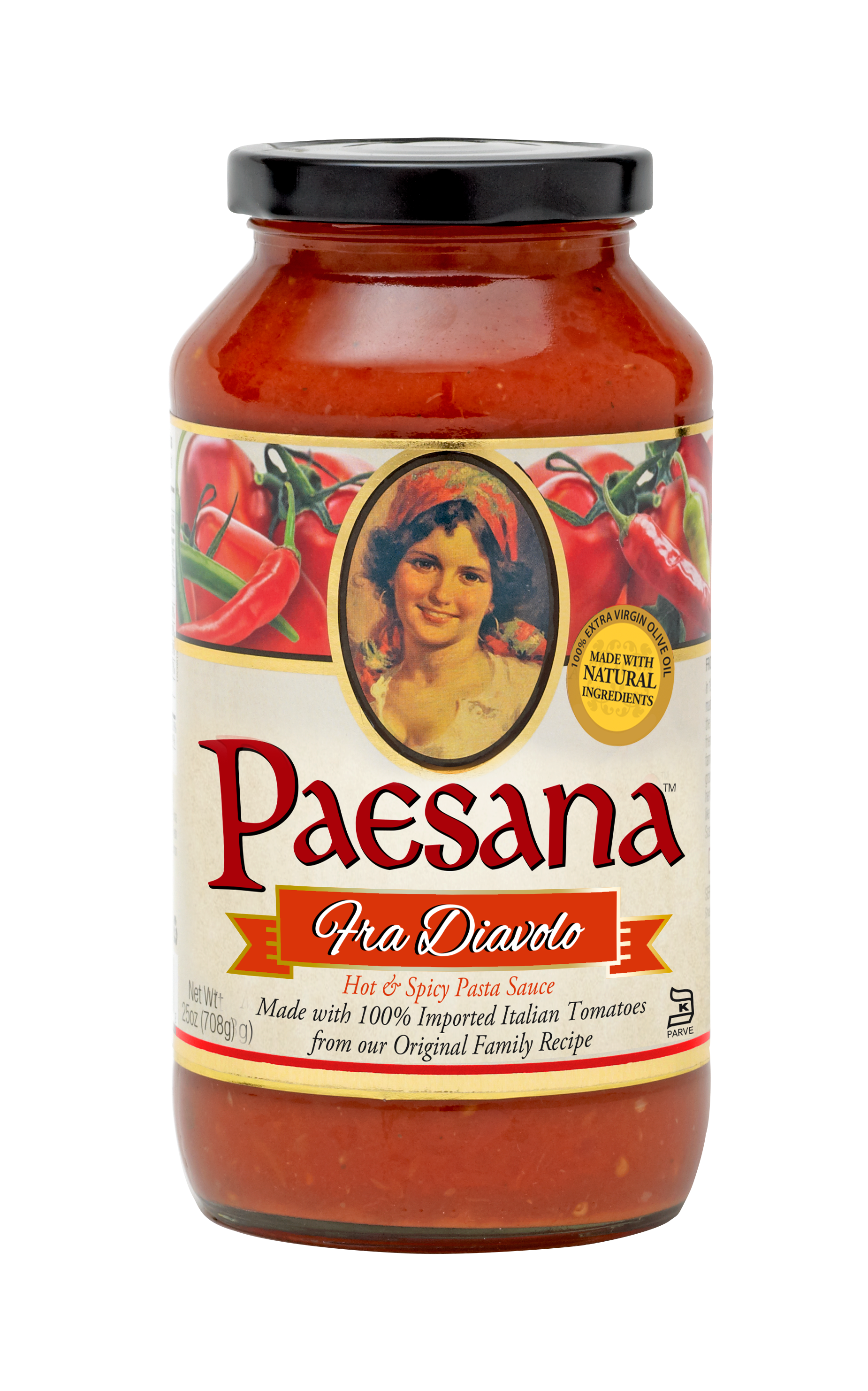 Paesana Fra Diavolo
Buy Now
Directions
1
Drizzle some extra virgin olive into a high-sided stainless steel saute pan. Set heat to medium-high.
2
Drop in the sausage, breaking it into pieces with a spoon and saute over medium-high heat until it is browned, about 4-5 minutes. Remove sausage from the pan and set aside.
3
Add the diced onion, season with salt, and cook in the sausage fat over moderate heat for about 3 minutes or until they begin to sweat.
Cook's Note
The use of sausage in this recipe replaces the need for a large amount of cooking oil, as the sausage fat provides plenty of juices for the other ingredients to cook in. If you don't eat pork, turkey sausage is a fine substitute. And if you'd rather not eat meat, you can leave sausage out entirely and use your favorite jar of beans—just be sure to compensate for the loss of fat with more olive oil.
Let's Continue...
1
Once the onion is soft and translucent, add in 4 crushed garlic cloves. Saute briefly until fragrant (careful not to burn the garlic!), and add the entire jar of Paesana Fra Diavolo sauce. Then, add the basil and as much red pepper flakes as your spicy heart desires.
2
Add the sausage back into the pan and let it all simmer together at medium-high heat uncovered for 20-25 minutes or until it's thick enough where you can set small divots in the sauce to accommodate the eggs. Taste for salt.
Cook's Note
If your sauce is still too thin, you can add tomato paste and cornstarch to thicken it up. First, add the tomato paste, then take a tablespoon of cornstarch, add it to equal parts cold water and mix until it forms a smooth paste. Vigorously whisk this mixture into the simmering sauce.
The Finish!
1
Lower the heat. Using a wooden spoon, make little wells and add an egg to each one. When all the eggs are in their wells, cover with a lid and stew for 5 minutes. Check to make sure the whites have set, but make sure the yolk remains runny.
2
Taste for salt and pepper, then serve immediately. Sprinkle with Parmigiano-Reggiano cheese and serve with slices of toasted Italian bread.