Easy Chicken Piccata
Piccata sauce is the uniquely piquant and zesty sauce that marries a creamy texture with a sharp taste. While piccata sauce is wonderful on veal and fish, we especially love it on chicken—the classic preparation that appeals to even the pickiest of eaters. Developing a velvety and flavorful piccata sauce takes time, ingredients, and effort. And though the results are worth the effort, you just don't have the time on some weeknights.
For those busy nights, Paesana puts in the effort and ingredients for you, with our Piccata Gourmet Cooking sauce. Made with white wine, butter, capers, and extra virgin olive oil, our piccata sauce brings the robust and bold flavor of capers, with a lemony background for a fantastic finish. Served with spaghetti, let's cook this dish together!
Ingredients:
1 pound boxed spaghetti
1 jar Paesana Piccata Gourmet Cooking Sauce
1 pound boneless, skinless chicken breast, cut into cutlets
½ cup all-purpose flour
4 tablespoons unsalted butter
2 garlic cloves, finely chopped
¼ cup shallots, diced
2 tablespoons fresh parsley, chopped
1 tablespoon extra virgin olive oil
Salt and pepper to taste
Featured Product: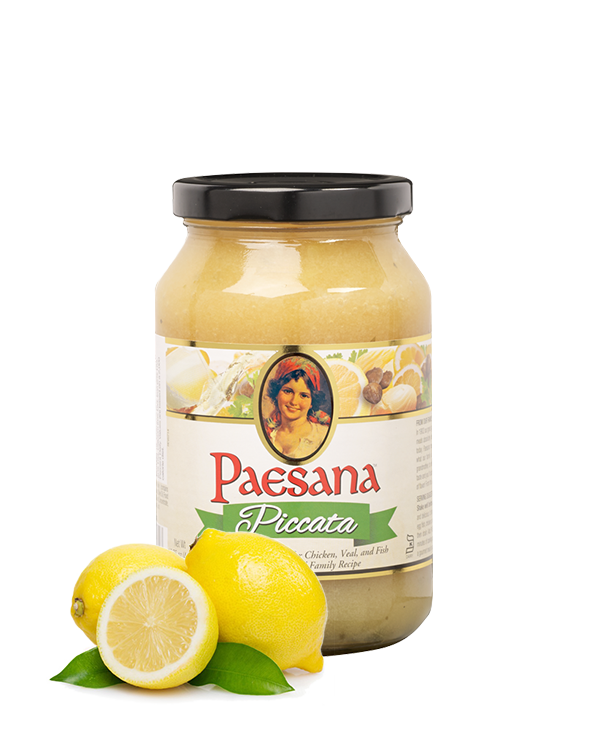 Paesana Piccata Gourmet Cooking Sauce
Buy Now
Directions
1
Bring a large pot of salted water to a boil. Add spaghetti and cook until al dente.
2
Season chicken cutlets on both sides with salt and pepper. Add flour to a bowl and season that with salt and pepper.
Cook's Note
Whenever dredging any food in flour, it's important to season the flour. In fact, when working with a full dredging station of flour, breadcrumbs, and eggs, it's a good rule of thumb to season each station with salt and pepper.
The Finish
1
Dredge the chicken cutlets until completely coated. Shake off the excess flour.
2
Add olive oil and 2 tablespoons of butter in a large skillet over medium high heat. When the butter is melted, add the chicken. Working in batches to not overcrowd the pan, add chicken and cook both sides until golden brown and cooked through, about 4-5 minutes per side. Set aside.
3
In the same skillet, add the remaining 2 tablespoons of butter and a small drizzle of olive oil. Add garlic and shallots, stirring constantly until fragrant. About 1-2 minutes. Adjust the heat so it doesn't burn.
4
Pour in the Paesana Piccata Gourmet Cooking sauce. Gently simmer until thoroughly warm. Do not let it come to a boil.
5
When the sauce is warmed, add the cooked chicken and any accumulated juices. Turn the chicken in the sauce a few times until completely coated.
6
Turn off the heat and add the fresh parsley.
7
Serve immediately over spaghetti!