Date Night Pizza Party
When you hear the phrase "pizza party," you might immediately picture a room full of loud, screaming kids and piles of pizza boxes and grease-stained paper plates. Well, take that image out of your mind. We're talking about a pizza party for two—the perfect setting for a date night spent inside with a very special someone. The simple act of cooking pizza at home can bring a couple together in a laughing, flour-covered frenzy. There's something incredibly intimate about cooking with your significant other, especially while sharing a bottle of wine.
Our recipe consists of the basics you'll need for a homemade pizza, but grab as many of your favorite toppings as possible—that means pepperoni, sausage, mushrooms, extra cheese, black olives, fresh basil and garlic, whatever you like! And with Paesana's array of sauces, creating a pizza parlor-worthy pie is so easy. We've included a recipe for making your own dough, but feel free to purchase ready-made dough from your local pizzeria or market.
Yield: 2 10-inch Pizzas
Total: 2.5 Hours
Active: 2 Hours
Ingredients for Dough:
1 ½ cups warm water
1 package (2 ¼ teaspoons) active dry yeast
3 ¾ cups all-purpose flour
2 tablespoons extra virgin olive oil
2 teaspoons salt
1 teaspoon sugar
Ingredients for Pizza:
Extra Virgin Olive Oil
Cornmeal or flour to keep pizza from sticking
Paesana Pizza Sauce of choice
Low moisture mozzarella, grated
Fresh (soft) mozzarella, cut into small pieces
Parmesan, grated
Toppings of choice
Featured Product: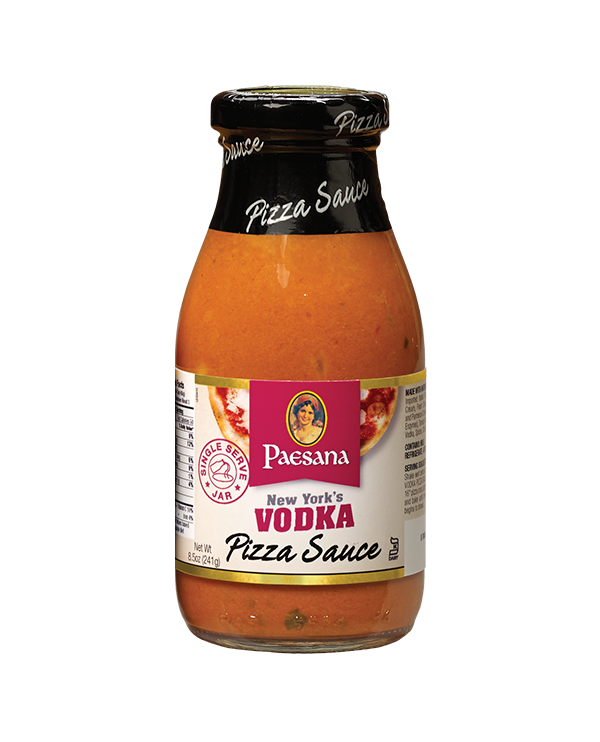 Paesana Vodka Pizza Sauce
Buy Now
Directions for Dough
1
First, you need to proof the yeast. Pour the warm water into a large bowl and sprinkle yeast in. Let it sit for 5 minutes until the yeast is dissolved. Stir if yeast hasn't dissolved after 5 minutes.
2
Add the flour, salt, sugar, and olive oil to the bowl with the water and yeast. Mix all the ingredients together by hand or, if you have one, use a stand mixer. Knead the dough for about 7-10 minutes.
Cook's Note
As you mix the dough, it should become a little sticky or tacky to the touch. Sprinkle with a little flour if it's still too wet.
Let's Continue
1
It's time to let the dough rise. Spread a thin layer of olive oil in a large bowl. Place your ball of pizza dough into the bowl and turn it in the oil until it's completely coated.
2
Here, you can do a slow fermentation or a quick fermentation. Since it's date night, we suggest a quick fermentation. For this process, cover the dough in plastic wrap and place in a warm place for 1.5 hours. This will allow the dough to sufficiently rise.
Cook's Note
If using store bought pizza dough, simply follow the directions on the package. And if using pizza dough from a pizzeria or from a package with no directions, skip to the "Directions for Pizza" and start there.
Directions for Pizza
1
You can use a pizza stone, pan, or thick baking sheet to make your pizza. No matter what you're using, place it in your oven set to 475-degrees for at last 30 minutes to preheat.
2
Divide your dough ball into two smaller balls. Remember to dust your hands with flour and to flour your work surface first!
Cook's Note
After dividing your dough, now's the time to decide what toppings and sauce you each want on your personal pizzas. You can go as cheesy or as saucey as you like, but remember that the more toppings you add, the less crispy your crust will be.
Let's Continue
1
Here's where you flatten the dough balls and stretch into a thin, round sheet. Do this by working one dough ball at a time, flattening with your hands on your lightly floured surface. Start at the center of the dough ball and work outwards using your fingertips to press the dough. You want it at about ½ inch thick. Turn and stretch the dough, but be careful not to tear it. If you notice the dough keeps "bouncing" back, let it relax for about 5 minutes, then keep stretching until it reaches a diameter of 10-12 inches. Be gentle!
2
After it's sufficiently stretched, make indents on the top of the dough with your fingertips. This will prevent over-bubbling (some bubbles are good, but you don't want one giant bubble!). Then, brush the top of the dough with olive oil. Let it rest another 10 minutes while you continue prepping your toppings.
3
If you have a pizza peel, sprinkle it with cornmeal or flour. If you don't have a pizza peel, you can use the underside of a sheet or baking pan to transfer the pizza into the oven.
4
Once on the pizza peel or underside of the baking sheet, spoon your favorite Paesana sauce, then sprinkle the low-moisture mozzarella and some pieces of fresh mozzarella. Then, add your other toppings of choice, such as pepperoni, sausage, mushrooms, etc.
5
Open the oven and sprinkle cornmeal or flour onto the pizza stone or baking pan/sheet. Remember it's going to be very hot in there so be careful!
Cook's Note
Before attempting to transfer pizza from the peel or underside of the baking sheet to pizza stone or pan, gently jostle the pizza to see if it will easily slide off. If it doesn't budge, lift up the sides and add more cornmeal or flour.
The Finish
1
Being extremely careful, slide the pizza off the peel or underside of the baking sheet onto the stone or pan in the hot oven.
2
Bake the pizzas, one at a time, in the 475-degree oven for 10-15 minutes or until the crust is browned and the cheese is melted. Pull out the pizza and top with a sprinkle of parmesan cheese!