Classic Stuffed Shells
Like baked ziti, lasagna, and manicotti, Classic Stuffed Shells is one of those comforting Italian dishes featuring pasta baked with cheese and sauce. Warm, cozy, and fully satisfying, the preparation involves filling jumbo pasta shells (conchiglioni) with a blend that includes ricotta, pecorino romano, parmigiano reggiano, lemon, and parsley. The result is a hefty bite of pasta that's tender, cheesy, and the perfect meal for a family gathering, Sunday dinner, or quiet weeknight. We built this recipe using Paesana marinara pasta sauce, as it's the purest expression of deliciously sweet and zesty tomato sauce—the ideal backdrop for cheese-filled pasta shells.
Ingredients:
1 jar Paesana Marinara Sauce
1 12 oz. box jumbo shells (conchiglioni)
2 pounds ricotta cheese
1 cup pecorino romano
1 cup parmigiano reggiano
4 eggs
½ pound low-moisture mozzarella, shredded
¼ cup fresh parsley, finely chopped
Zest of 1 lemon
Salt and pepper to taste
Olive oil
Featured Product: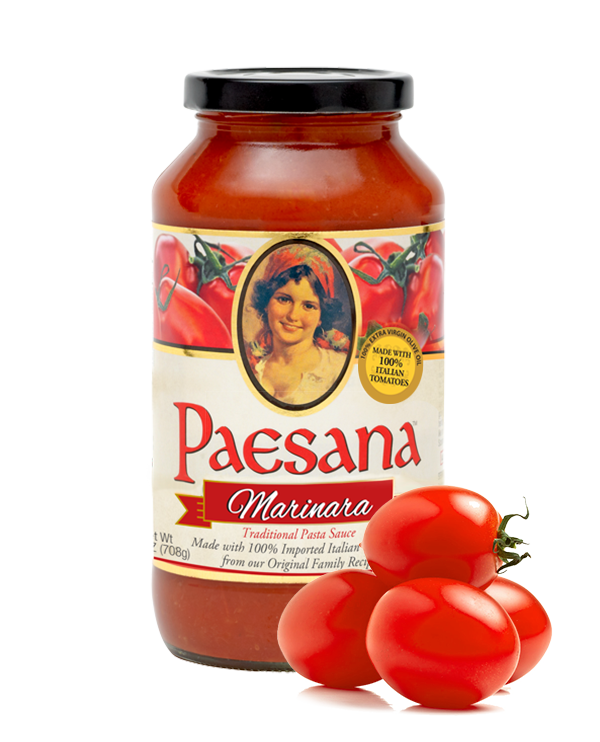 Paesana Marinara Sauce
Buy Now
Directions
1
Preheat your oven to 425 degrees and set aside your Paesana marinara sauce.
2
Bring a large pot of salted water to a boil. Pour in the jumbo shells and stir immediately to prevent sticking. Since the pasta will finish cooking in the oven, you only need to boil the shells for a fraction of the time given in the instructions on the box. We found 5 minutes to be the ideal time to cook jumbo shells for stuffed shells.
3
When the pasta is done, drain completely. Do not rinse the pasta after cooking it. In fact, never rinse pasta after you've cooked it!
Cook's Note
Rinsing pasta washes away all the valuable starch, which is what helps sauce adhere to your pasta. Rinsing also cools the pasta and prevents the absorption of sauce. Please don't rinse your pasta!
Let's Continue
1
Set pasta aside and allow it to cool completely. Now, let's make the filling.
2
In a large bowl, combine ricotta, pecorino, parmigiano, eggs, chopped parsley, lemon zest, salt and pepper, and mix until well combined.
3
Ladle Paesana marinara sauce into a thin layer in a baking dish.
4
To fill the shells, you can either use a spoon, piping bag, or a makeshift piping bag (a ziplock bag with a corner snipped off. Holding the shell in the palm of your hand, one at a time, fill the pasta generously with the ricotta mix. The shells can be quite deep, so make sure you fill it completely!
5
After each shell is filled, place it atop the thin layer of sauce in your baking dish. Line up the shells side-by-side, repeating the process until the baking dish is full.
6
Sprinkle the shredded mozzarella cheese on top of the shells; spread it evenly. Finally, add some of the sauce on top of the cheese. Not too much. Make it pretty.
Cook's Note
Stuffed shells is a fantastic "make ahead" dish. At this point, you can cover and refrigerate to finish later that day or even the next day. Or, if you can't wait, see the next step!
The Finish
1
You're ready to bake! Cover the dish with aluminum foil and place in your preheated oven at 425 degrees for 20 minutes covered. After 20 minutes, remove the foil and bake for an additional 20 minutes. You can even put the dish under your oven's broiler to get a little color. Just keep an eye on it so it doesn't burn!
2
Slowly warm the remainder of the Paesana sauce in a small saucepan over low heat.
3
To serve, spoon some of the warmed Paesana marinara sauce onto the plate and place multiple shells on top. Sprinkle with a pinch of parm and the faintest drizzle of olive oil. Now, eat!