Cheeseburger Parm on the Grill
This week we're taking advantage of the beautiful weather by spending time outside with the grill to cook an Italian version of the all-American cheeseburger. Essentially, we're taking ingredients and methods typically associated with meatballs or chicken cutlets, and applying them to a cheeseburger. Finished with Paesana Marinara Sauce and fresh basil on a toasted garlic roll, this picnic-ready patty jolts your outdoor event with all the flavors of Italy.
Yield: Ingredients and directions for 1 burger, simply repeat for as many burgers as you need.

Ingredients:
Paesana Marinara Sauce
9 oz. Ground Chuck (80/20 and formed into a 4x8 rectangle)
4 oz fresh mozzarella, sliced thin
3 fresh basil leaves
6 inch Italian roll
2 teaspoon, granulated garlic
2 tablespoons of unsalted butter
3 tablespoons parmigiano reggiano, grated
Extra virgin olive oil
Salt
Featured Product: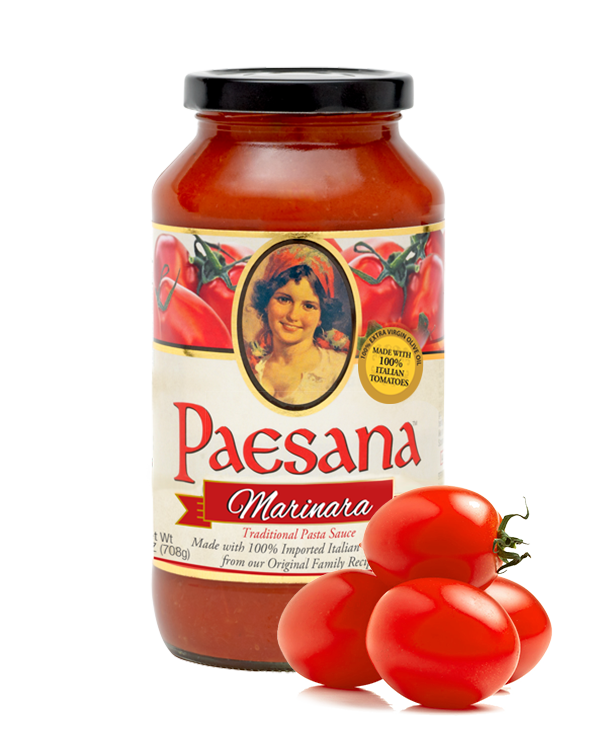 Paesana Marinara Sauce
Buy Now
Directions
1
Heat your Paesana Marinara Sauce on low until warm. Turn off heat and cover until you need it.
2
For the garlic rolls, melt a tablespoon of butter in the microwave for 20 seconds, or until it just barely melts. Make sure there's still some whole butter visible. Then, add the granulated garlic. Let it cool and set aside.
3
Now, let's prep our meat. Form the ground chuck into a rectangle. Make sure it's a little wider and a little longer than the roll, keeping in mind that the patty will shrink when you cook it. Form the patty on parchment paper so it's easy to transport out to your grill.
Cook's Note
This is a dish that can easily be prepared inside as well. Simply cook the patty on a flat top or cast iron pan instead of the grill. And melt the cheese under your oven's broiler once your meat comes to temp.
Let's Continue...
1
Get that grill nice and hot. Spread the garlic butter mixture onto both sides of the roll and place it cut side down on the grill over indirect heat. Keep an eye on it and don't let it burn. You're just looking for a light toast.
2
Once you get that light toast on the roll, remove and immediately add a tablespoon of parm to each side of the roll, making sure to sprinkle so that it covers completely. Set aside.
3
Let's get that meat! Season the patty on the exposed side with salt and a touch of olive oil, then slap down onto the grill (over direct heat) so that the parchment paper is facing up. After a minute or so, remove the parchment paper and season the other side of the patty with salt and a little olive oil.
4
After about 2-3 minutes, flip the patty and let the other side cook for about 2 minutes or until it reaches the doneness you desire. (Generally speaking, beef should reach an internal temp of 160-degrees)
5
Once you get to the doneness you desire, add the mozzarella cheese on top of the burger and close the grill.
6
While the cheese is melting, ladle a few spoonfuls of Paesana Marinara Sauce onto the bottom side of the roll.
7
Remove the burger from the grill and place atop the sauced side of the roll. Ladle more sauce on top of the burger, then sprinkle the remaining parm, and add your three leaves of fresh basil. Close the sandwich and repeat with as many burgers as your party requires!