Champagne Sauce Pork Chops
Raise your glass and toast to classic Italian pasta sauces—along with some not-so-classic pasta sauces. One of our new favorites in the pasta sauce department is the bright and creamy Champagne Sauce. Infused with truffle infused oil and fresh ingredients like shallots, garlic, and real champagne, our Champagne Sauce is versatile and flavorful, with a taste that will make you pop your cork.
With a creaminess reminiscent of Vodka sauce, our Champagne Sauce adds a wonderful new dimension to all your favorite pasta dishes. But we absolutely love it when paired with pork. There's just something about the earthy, pungent, and mushroomy taste and aroma that makes this sauce a hit when cooked with pork chops and served with a side of garlic mashed potatoes. The best part? With a jar of Paesana Champagne Sauce, we've already done all the hard work for you!
Yield: 4-6 Servings
Total: 35 minutes
Active: 35 minutes
Ingredients:
1 25 oz. jar Paesana Champagne Sauce
6 pork loin chops (bone-in or boneless)
4 garlic cloves, peeled
6 medium red potatoes, unpeeled and quartered
1 cup sour cream
2 tablespoons parsley, chopped
2 tablespoons olive oil
Salt and pepper to taste
1 tablespoon butter (optional)
Featured Product: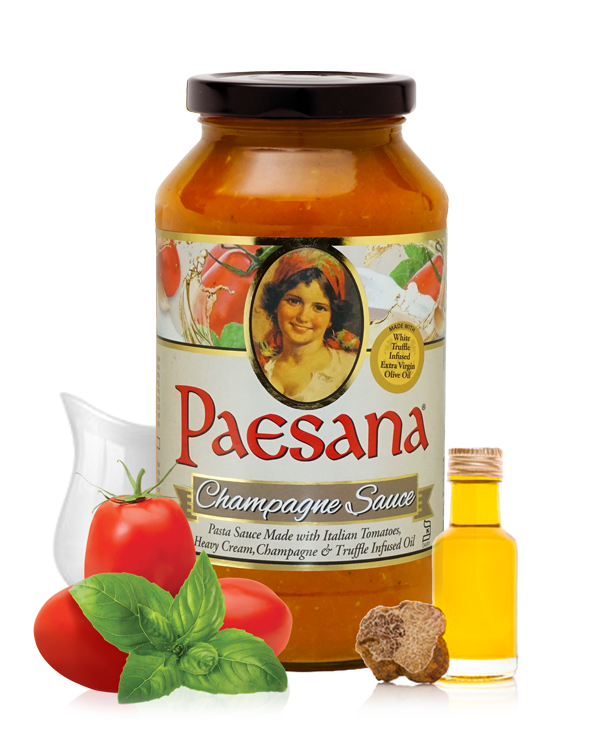 Champagne Sauce
Buy Now
First, the Mashed Potatoes
1
Place your quartered and unpeeled potatoes in a medium saucepan and cover with water. Place on high heat and bring to a boil. Cook for about 8-10 minutes or until the potatoes are fork tender.
2
Drain the water, then return potatoes and garlic to the saucepan. Add all the sour cream and mash until it's as smooth as desired. **
3
Stir in chopped parsley and season to taste with salt and pepper.
Cook's Note
The longer you mash your potatoes, the more smooth they will be. Some people like lumps in the mashed potatoes, as you get smoothness with a little bit of bite. But if you don't like lumpy mashed potatoes, keep mashing!
Now, onto the Pork Chops
1
Heat olive oil in a large skillet on medium-high heat.
2
Season each chop with salt and pepper on both sides and add to the hot skillet. Don't overcrowd your pan. Cook the chops in batches if you must.
Cook's Note
You can find both boneless and bone-in pork chops at your local grocery store. While both work really well with this recipe, we prefer the extra flavor boost of bone-in pork chops. Plus, you get to nibble on the bone at the end of the meal!
Now, onto the Pork Chops (cont.)
1
Cook pork chops for 2 minutes per side or until golden brown. Set your chops aside on a plate.
2
Don't clean the pork chop skillet yet! In that same pan, add one tablespoon of butter (optional) and let it melt.
3
Once butter is melted and foaming, pour in Paesana Champagne Sauce. Stir frequently and cook for about 2 minutes.
4
When the sauce is warm, return the pork chops back to the skillet. Be sure to pour in any juice that has accumulated on the plate as the pork chops rested.
5
Turn the chops in the sauce until coated and simmer for 3 to 5 minutes. It's OK to crowd the pan here, so you can put all the chops in at once.
6
Serve immediately with a side of garlic mashed potatoes or ladle the chops and sauce directly over a mashed potato foundation!