Calamari Stew
We've all heard about the "Feast of the Seven Fishes," an Italian holiday tradition that typically dictates dinnertime on Christmas Eve. While the dishes that surface during this seafood bonanza are varied and adherent to the specific customs developed by each practicing family, you can bet that at least one preparation involving calamari will make an appearance.
Here, we present to you one of our favorite representations of calamari—also known as squid. There are two ways to cook calamari: very quickly or very slowly. Anything in between results in a rubbery, all-around unpleasant texture. Instead of deep frying it for a crisp appetizer, we're cooking the calamari low and slow until unbelievably tender for a rich dish that rides the fine line between sauce and stew. Ladled over pasta or simply served in a bowl with a side of crusty bread, our Calamari Stew is warm and festive all year round.
Yield: 4
Total: At Least 1 hour, 20 minutes
Active: About 20 minutes
Ingredients:
2 pounds cleaned calamari, tubes sliced into rings, tentacles chopped or left whole
4 tablespoons extra virgin olive oil
1 onion, chopped
1 fennel bulb, chopped
4 garlic cloves, chopped
2 tablespoons tomato paste
1 teaspoon red pepper flakes (optional)
1 cup red wine
¼ cup Sambuca (optional)
1 25 oz. jar Paesana Marinara Sauce
½ cup parsley, chopped
½ cup fennel fronds, chopped (optional)
½ cup Parmesan cheese (optional)
Salt and pepper to taste
Featured Product: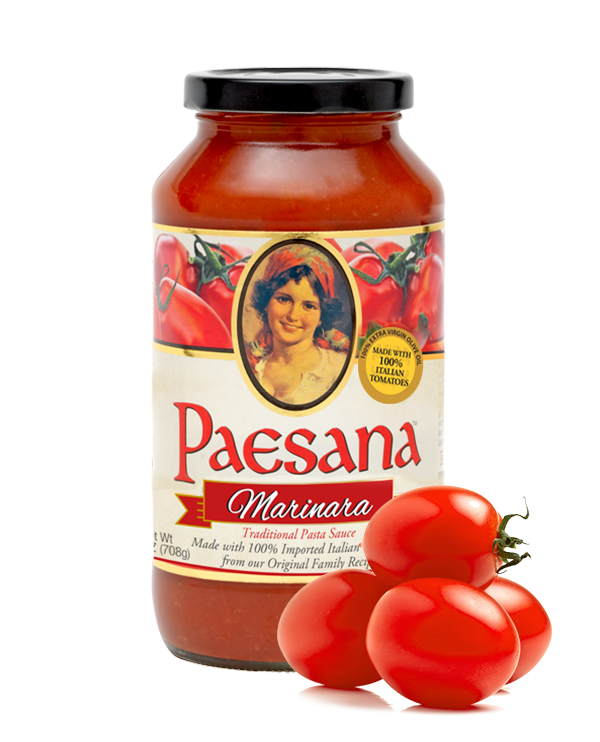 Marinara Sauce
Buy Now
Directions
1
Slice the calamari tubes into rings. You can also rough chop the tentacles or just leave those flavorful clusters whole. If using frozen squid, let it defrost slowly in your refrigerator overnight before cooking.
2
In a large sauce pot, heat the olive oil over medium-high heat. Once the oil is hot and shimmering, add the chopped onion and fennel. Season with salt and stir to coat in the olive oil. Sauté until the onion and fennel begin to take on color, stirring occasionally.
3
Add all of the garlic and tomato paste, stirring well to combine and frequently to avoid burning. Cook this mixture for 2-3 minutes.
4
Pour in the red wine and Sambuca, stir, and increase the heat to high. Here, you need to cook off the alcohol, so boil until the liquid has reduced by half.
Cook's Note
If you chose to use Sambuca (or another anise-flavored liquor) in this recipe, the taste of alcohol might linger during the cooking process. You might even begin to worry that the alcohol taste will never dissipate and you've ruined the dish with Sambuca. Fret not! Though you might taste the sharpness of alcohol as you taste for seasoning, by the time you've completed the meal, the flavors will have meshed and develop an unexpected complexity.
Let's Continue
1
Add an entire jar of Paesana Marinara Sauce, along with half a jar of tap water, and turn the heat back down to medium. Season with salt, stir, and allow the pot to come back to a simmer. Add the red pepper flakes (optional).
2
Here's where things might get controversial. Some Italian cooks are staunchly against ever using cheese in a seafood preparation. Take it from us: It's OK to break the food laws in the name of flavor once in a while. Add the parmesan cheese. Not only will it help to thicken the stew, it will also add a real depth of flavor.
3
Stir in the calamari. Let this simmer for a full hour, stirring occasionally.
4
After one hour, taste a piece of the calamari. It should be tender and ready to serve. If you feel like it could be more tender, keep simmering until it reaches the desired texture. We tend to cook this dish over an hour because we want it to reduce as much as possible to really concentrate the flavor.
5
Taste for your final seasoning of salt and pepper. Turn off the heat. Add the chopped parsley and fennel fronds (optional). Stir and serve!
Cook's Note
As mentioned earlier, this can be eaten over pasta or with a spoon and some bread. If serving over pasta, we love the long strands of linguine or a short tube like penne rigate. Another great option is draping this flavorful sauce/stew over creamy polenta.