Calabrian Stuffed Eggplant
Stuffed eggplant is a staple dish of the Calabrian region of Italy. With the addition of ground meat—in our recipe, pork—a satisfying side dish becomes the centerpiece of a belly-filling meal. For this recipe, we're using small, Italian eggplant, which is more delicate and sweeter than its larger cousins. Meanwhile, the smaller size of Italian eggplant makes it a good choice for stuffing, roasting, and broiling. Covered with spoonfuls of Paesana Marinara Sauce, our Calabrian Stuffed Eggplant makes for an easy weeknight dish or comforting Sunday meal.
Ingredients:
8 small Italian eggplants
¼ cup extra virgin olive oil
2 cloves of garlic, minced
¼ cup fresh parsley, minced
1 pound ground pork (ground beef, veal, chicken, or turkey also works)
2 cups unseasoned breadcrumbs
¼ cup fresh basil, chopped
¼ cup grated pecorino cheese
1 egg, lightly beaten
1 teaspoon kosher salt
½ teaspoon red pepper flakes (optional)
Fresh ground pepper to taste
¾ cup water
2 cups Paesana Marinara Sauce
Grated pecorino cheese for topping eggplants
Featured Product: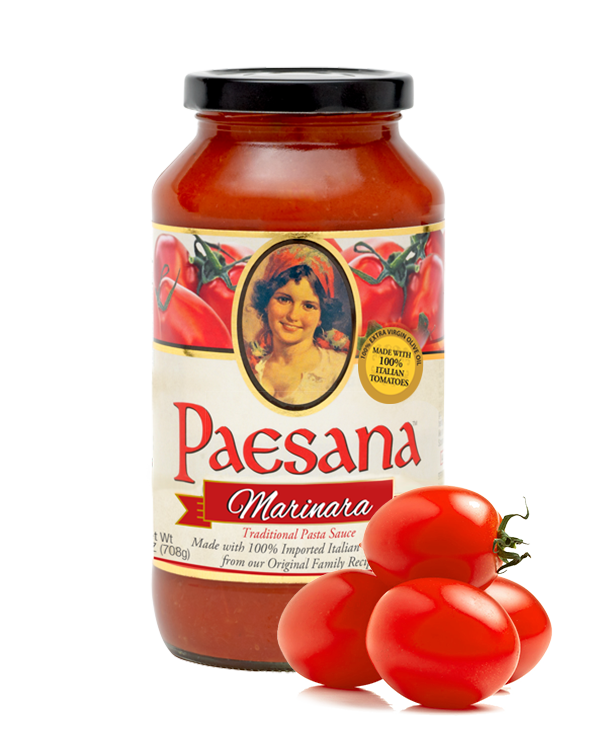 Paesana Marinara Sauce
Buy Now
Directions
1
Remove stem and cut eggplants in half lengthwise. Using a spoon, carefully remove the eggplant pulp onto a cutting board, making sure to leave the shell intact, about a quarter-inch thick.
2
Once all the pulp has been removed, chop finely and set aside in a large bowl.
3
Heat olive oil in a large skillet over medium heat. Add all of the chopped eggplant pulp, along with the garlic, parsley, red pepper flakes and a ½ teaspoon of salt. Mix and sauté for 3 minutes until the eggplant is tender.
4
Remove the sautéed eggplant mixture from the heat and set aside in a bowl. Allow to cool to room temperature.
Cook's Note
This is a great dish for improvisation. Not a fan of ground pork? Use ground beef or any other type of ground meat. Or, leave the meat out altogether and just use the eggplant pulp, perhaps with some sautéed mushrooms to give it a bit more heft.
Let's Continue...
1
Preheat the oven to 375 degrees. As the oven preheats, add the ground pork, breadcrumbs, basil, pecorino cheese, egg, as well as salt and pepper to the sautéed eggplant pulp.Then, add the water. Mix gently by hand.
2
Ladle some Paesana Marinara Sauce into a large baking dish, creating a thin layer of sauce at the bottom of the dish. Lightly salt the eggplant shells inside and out and stuff with the eggplant pulp/ground pork mixture. Add the stuffed eggplant halves to the dish on top of the sauce, side by side.
3
Spoon more sauce over each stuffed eggplant half and sprinkle with pecorino cheese.
4
Cover the baking dish with foil and bake for 45 minutes. Remove the foil and bake for an additional 15 minutes. Ground pork is fully cooked when it reaches a temperature of 160 degrees on an instant read thermometer.
5
Allow to cool, uncovered, for 5 minutes. Then, serve!