Bucatini all'Amatriciana
Did you hear about the bucatini shortage that devastated grocery stores in 2020? No, it's not some made-up, internet hoax—it's actually very real. Bucatini supplies dwindled in the U.S. because of a combination of factors, namely a change in the way the FDA classifies certain types of pastas. But don't fret! Word is that bucatini—one of our favorite long-strand pastas—is making a comeback and store supplies should recover fully by February 2021. You know what this means: Time to look up some of our favorite bucatini recipes!
We want to start with what is arguably the most popular application of bucatini—that long spaghetti-like pasta with a cavernous hole going straight through the strand from end to end—and that's Bucatini all'Amatriciana. A traditional Italian pasta sauce preparation from Amatrice, Italy, Amatriciana gets its flavor mainly from guanciale, pecorino cheese, and, of course, tomato. To bring an extra level of heartiness, we like to use Paesana Sicilian Gravy. And if you can't get your hands on any guanciale, you can also use pancetta or unsmoked bacon. Now, let's get to the recipe.
Ingredients:
1 24 oz. jar Paesana Sicilian Gravy
2 Tablespoons extra virgin olive oil
4 oz. guanciale, thinly sliced (substitute pancetta or unsmoked bacon, chopped)
1 tablespoon tomato paste
½ teaspoon red pepper flakes
12 oz. dried bucatini (or spaghetti if you can't find bucatini)
¼ cup Pecorino, finely grated
3 tablespoons red wine (or vinegar)
Salt and pepper
Featured Product: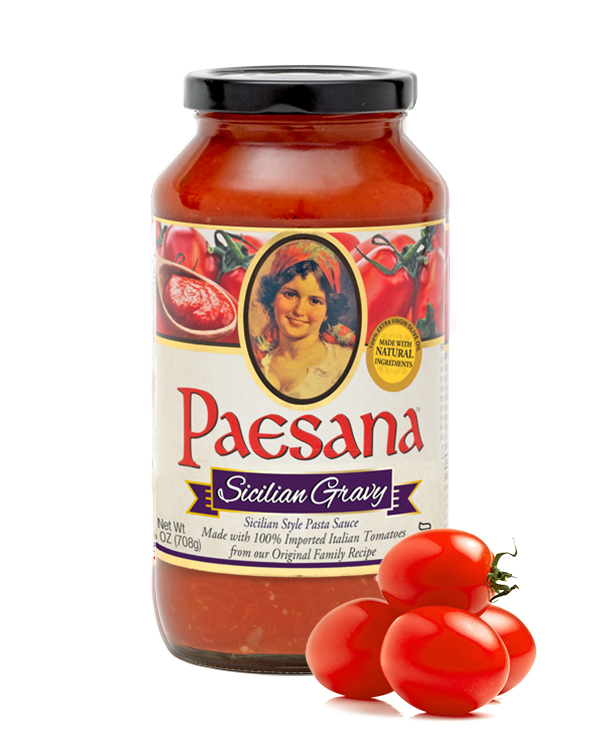 Sicilian Gravy
Buy Now
Directions
1
In a large skillet, heat the olive oil over medium heat. Add the guanciale and sauté until it's crisp and golden brown. This should take about 4 minutes.
2
Add red pepper flakes and some black pepper. Stir it all together. Then, add the tomato paste and mix until it's fully incorporated.
Cook's Note
Tomato paste is an absolute kitchen essential. Adding it to your pasta sauce preparations brings a depth of flavor that makes it seem like your dish has been simmering all day, even if you just quickly threw it together as a weeknight meal. It also helps to thicken sauces.
Let's Continue
1
When the tomato paste is fully incorporated, add the red wine. The moisture from the wine will help you scrap up any brown bits from the guanciale. These brown bits are full of flavor!
2
Allow the red wine to reduce almost entirely. Since it's such a small amount, this shouldn't take too much time. About 3 minutes.
3
Add the jar of Paesana Sicilian Gravy. Reduce heat to low and cook for about 15-20 minutes, or until the sauce thickens. Stirring occasionally.
4
Once you add the sauce to the skillet, fill a large pot with water and bring it to a boil. Don't forget to salt the water just before it begins to boil.
5
When the water boils, add the pasta (don't break the strands in half!). Stir it occasionally and cook until 2 minutes before al dente.
Cook's Note
It typically takes bucatini about 10 minutes to reach al dente, but it's best to start checking for doneness at the 6 minute mark. This will ensure you do not go over cooking time and end up with a carby mush.
The Finish
1
Carefully move the pasta directly from the boiling water to the sauce skillet using a pair of tongs. Though the pasta isn't quite done yet, it will finish cooking in the sauce.
2
Toss the pasta vigorously in the sauce, turning to coat several times. If you feel it needs more moisture, add a little pasta water at a time. Cook for about 2 minutes or until the pasta is al dente.
3
Turn off the heat and add all of the Pecorino. Stir it in until fully incorporated, then transfer to plates or bowls and serve immediately.