Baked Ziti
Baked pasta dishes take on many different forms—some incredibly simple and others having intricate details that require more prep work. There are variations that fold fresh vegetables into the preparation, while others incorporate savory meats like ground beef or pork sausage. The different ingredients are up to the chef, but what's truly important for a successful baked pasta dish—besides lots and lots of cheese—is the method. Baked in a casserole, these dishes should boast fully browned, almost charred bits on the top layer, while carefully maintaining a soft, al dente texture near the bottom. This varied texture elevates the eating experience and guards against your baked pasta being reduced to a soupy mess.
Baked pasta (pasta al forno) encompasses lasagna, stuffed shells, manicotti, and more. For this recipe, we're going to offer one of the more classically simple variations: Baked ziti. Our recipe brings together Paesana marinara sauce with fresh mozzarella, low-moisture mozzarella, whole-milk ricotta, parmigiano reggiano, and short tube pasta. Rather than standard ziti with its smooth exterior, we like to use pasta with ridges, as sauce is more likely to cling to textured pasta. That's why for baked ziti, we choose ziti rigati or rigatoni pasta
Ingredients:
1 lb of ziti rigate or rigatoni
2 jars of Paesana marinara sauce
½ lb fresh mozzarella, diced
½ lb low moisture mozzarella, diced
1 lb whole milk ricotta
About a cup of parmigiano reggiano
Salt
Olive oil
Featured Product: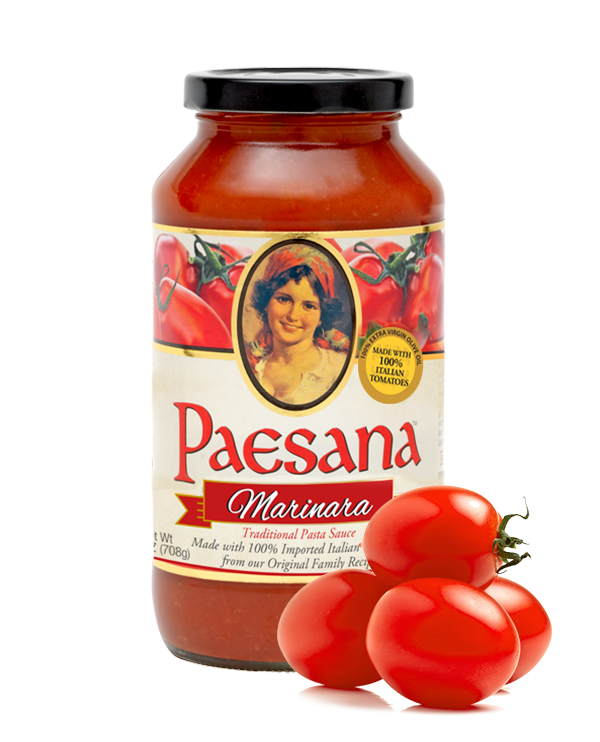 Marinara Sauce
Buy Now
Directions
1
Heat two jars of Paesana marinara sauce. Once heated thoroughly, remove from heat and set aside.
2
Bring salted water to a boil and add all the pasta. Cook the pasta to no more than halfway through. In fact, cook it less than halfway through. About 4 minutes. Remember, the pasta will reach al dente texture in the oven.
3
When pasta is half cooked, drain completely. Reserve about a half cup of pasta water just in case you need to add moisture to the pasta and cheese mixture.
4
Preheat oven to 400-425 degrees.
Cook's Note
The cheese and sauce will likely bubble over in the casserole dish as it cooks. That's good! This is what helps create the almost charred bits of pasta connected by ooey, gooey cheese to the softer, al dente pasta. Be sure to place your casserole atop a baking sheet to catch any overflow.
Let's Continue...
1
Prepare both variations of mozzarella cheese dicing into medium-sized cubes. Mix in a bowl and set aside.
2
In a large bowl, ladle in some of the warm Paesana sauce, then add all of the pasta. Add more sauce and mix until completely combined.
3
Add the ricotta to the sauce and pasta and mix it all together. Generously sprinkle in some parm, then add a handful of both kinds of mozzarella cheese, reserving most of it to layer in the baking dish. Add salt to taste.
4
Add a base layer of sauce to the bottom of a baking dish, then add half the pasta. On top of that, add a layer of the diced mozzarella cheeses and a sprinkle of parm. Then add the rest of the pasta. Be sure the top layer is uneven and jagged. This will help to create crunchy ends of pasta and the varied texture that's so important to this dish.
5
Dot the top layer with more mozzarella cheese (you don't have to use all of it). Sprinkle with more parm and finish with a drizzle of olive oil.
Cook's Note
Using a mix of fresh mozzarella and low-moisture mozzarella ensures your baked ziti will have the charred flavor that occurs when you bake fresh mozzarella, along with the stretchy, gooiness of low-moisture mozzarella.
The Finish!
1
Bake uncovered. After 30 minutes, check to see if the dish has sufficiently browned. If not, let it stay in the oven, but check it frequently to make sure it doesn't get too dark. Finish in the broiler if desired.
2
Rest for about 5 minutes before serving.